How Champlain's Title IX Office Can Make Procedures More Clear
This editorial is posted alongside the news story "Student-Created Instagram Page Shares Anonymous Sexual Assault Claims."
Champlain's Title IX report process as well as the understanding of the role of the Title IX office are unclear, leaving students feeling misinformed, confused, and that their issues are not getting resolved.
"Nothing."
"Almost nothing. Is there an easy way to learn?"
"Making a report has a tendency to do literally f****** nothing. That is all I know."
These responses are among many responding to the question from a survey The Crossover sent to students: "What do you know about Champlain's Title IX process?" Other responses highlight similar issues.
Champlain's Sexual Misconduct & Title IX page does not outline the process accurately. The page states: "To report sexual or gender-based discrimination, harassment, and misconduct, including sexual assault, non-consensual sexual contact, sexual exploitation, intimate partner violence, and stalking to the Title IX Coordinator: Submit an online Sexual Misconduct and Title IX Report Form. This form may be submitted anonymously."
Currently, Title IX reports are reviewed only during Monday through Friday business hours. While staffing may make weekend review impossible, the College needs to implement a protocol whereby a student who needs immediate support and protection can turn to a system that will provide temporary remediation until Monday morning. 
Not once does the page outline the process of submitting a formal complaint.
There is one small difference between a report and formal complaint that may completely change how the Title IX office reviews it: a signature. If a student submits a report with a signature on it, the Title IX office identifies it as a formal complaint.
What, besides a signature, is the difference?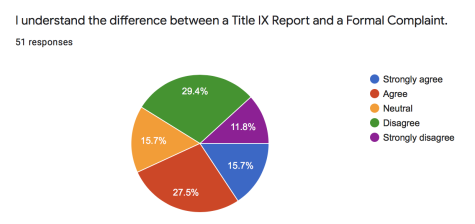 A report warrants resources for the student who submitted it including providing support measures, reporting measures outside of Champlain, the process for filing a formal complaint, an overview of the investigation process, and an available meeting with the Title IX office for further conversation. 
The Title IX office does not reach out to the accused unless it is a formal complaint. A formal complaint most often warrants an investigation.
In order to access the abundance of this information, students can read the Sexual Misconduct Policy. This policy should be linked to the Sexual Misconduct & Title IX page, so it is required for a student to view it before submitting a report.
The difference between a Title IX, Sexual Misconduct, and Community Guidline issue is also unclear. The Sexual Misconduct & Title IX page groups them together and does not directly disclose what the definitions of each of them are. Part of the Title IX office's job when receiving a report or formal complaint is to decide whether it violates Title IX, Sexual Misconduct, or Community Guidelines. Yet, the student is unaware of the differences.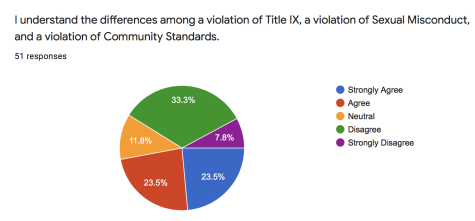 It is still ambiguous which situations would fall under each category.
The Sexual Misconduct Policy explains that if a student wants to learn more about Champlain's actions for prevention of sexual harassment, assault, and misconduct, they should visit the Safety & Respect tab of the Student Affairs, Diversity, and Inclusion portion of the site. From here, they can visit the "Prevention Education" tab, which includes four paragraphs on Champlain's current prevention systems for students, faculty, and staff.
The Prevention Education page says the following: "Champlain brings prevention education to students even before they start classes. All incoming students are expected to complete a series of online educational modules including: Alcohol Awareness and Prevention Training; Diversity, Equity, and Inclusion for Undergraduates; Mental Well-Being for Students; and, Sexual Violence Prevention. These educational modules provide a comprehensive overview of issues that are central to the student experience."
Although a required online program such as these can allow students to learn about sexual violence prevention, it is not effective. This information needs to be reinforced for students every year that they attend Champlain through a system other than an online program. 
By way of example: A presentation called "Maximize Your Buzz," that was required during my freshman orientation was easily one of the most entertaining presentations about an extremely serious topic that I've ever seen. Although this presentation was about alcohol safety, it was an effective means of allowing students to remember. "Maximize Your Buzz" didn't enforce not drinking, but instead taught students the safe ways to do so and to respond in a difficult situation related to alcohol.
Champlain should adopt a more interactive way of educating, informing and enlightening students about the Title IX office and Title IX reporting that gives adequate weight to such an important issue, including all of the ways to report an assault and what happens during and after each reporting. The current online, dual-tab, nonrequired introduction to Title IX is wholly ineffective and needs to be replaced with a process that meets the seriousness of the issue. Anything less will be insufficient.
The College's new administration, especially including our newest president, needs to commit the resources necessary to undertake a wholescale reevaluation of its approach to educating students to the potential benefits of Title IX. Further, it needs to take the steps and commit the resources necessary to make Champlain College's Title IX Office a model of responsiveness and accountability. We note that the 26 percent of an admittedly small survey size who registered dissatisfaction with Champlain's Title IX Office is unacceptable and is all that's necessary to inspire a reevaluation of the office's performance and outreach.
That being said, students should communicate with the Title IX office when possible to discuss modes of improvement. Danelle Berube requests feedback from students on the Culture of Consent Survey that will be closed on April 1, 2022. 
Champlain College needs to improve lines of communication, accessibility, and education of Title IX in order to properly support its students.
Leave a Comment