Student-Created Instagram Page Shares Anonymous Sexual Assault Claims
Champlain among colleges nationwide under fire for Title IX responses.
Champlain Students Share Frustration with Title IX Office, Echoing Nationwide Concerns
Recent posts on an anonymous Instagram account have raised questions about Champlain College's handling of claims of sexual assault and misconduct—joining a chorus of complaints on campuses across the country about the process of reporting such allegations through Title IX.
"Why does ch*mplain[sic] allow somebody with 10 Title IX's to hold a position of power[?]" read a Feb. 18 post to Instagram account @champlain.imgladimissed, which is not affiliated with the college. This post was submitted anonymously by a student.
Other students began sharing the anonymous post on their own Instagram pages. This post is the account's most-liked, and currently has over 40 comments, including the following:
In one comment, a student alleged that an accused abuser ended up in the same residence hall, despite her reports of assault to the Title IX office and request to the Title IX office that that the person be assigned to a different residence. In reply to her own comment, she wrote, "We're customers to the administration. Not human beings. Money is all they care about."
The student who submitted the post to the @champlain.imgladimissed page chose to remain anonymous because of their discomfort with the story's topic. But, he felt his submission was necessary to begin a conversation about the Title IX report process at Champlain.
The anonymous submitter added, "I just think that, if you hit 10 Title IX [reports], there has to be a limit where you say, 'Okay, this person probably is not responsible enough to be in a position of power. This person should not have a degree of control over other students.'"
Champlain's Title IX Coordinator, Danelle Berube, said she was unavailable for comment in person, via Google Meet or on the phone. She responded to all questions via email.
"The Title IX Office is not aware of any scenario of "10 Title IX" reports or violations," she wrote in response to questions about this specific post on @champlain.imgladimissed. 
What is Title IX?
Title IX is the mechanism for reporting incidents of sexual abuse on college and university campuses. A federal requirement that initially was instituted to address allegations of gender discrimination, Title IX has put responsibility on college administrators to investigate allegations of sexual assault, misconduct, and harassment. Title IX offices across the country have come under fire in recent years for miscommunications with processes and students desiring new systems.
"Champlain College endeavors to maintain an inclusive campus environment based on mutual respect and valuing differences," reads the college's Sexual Misconduct and Title IX page. "Champlain College prohibits sexual or gender-based discrimination, harassment, and misconduct, including sexual assault, non-consensual sexual contact, sexual exploitation, intimate partner violence, and stalking, under the Sexual Misconduct Policy."
Champlain students can submit the form for Title IX reports anonymously or with a name attached. The reports go to the Title IX coordinator or deputy coordinators, who are tasked with resolving the issue and making sure it doesn't reoccur.
One student chose to remain unnamed due to concern of backlash from the College's administration. In an interview with The Crossover, she shared experiences with friends struggling with gaining help from the Title IX office.
"People put in those reports, and they're like, 'okay, something is going to get done,'" she said. "[But] no. They're useless. They're literally useless. It's ridiculous."
The Crossover Survey 
In response to the uproar over the @champlain.imgladimissed post, the staff of The Crossover sent out a survey to gauge students' knowledge of Champlain's Title IX protocols and their personal experiences with Title IX. 
Of the 50 students who responded, 94 percent were familiar with Title IX, but half of respondents did not know where to find more information about Title IX at Champlain.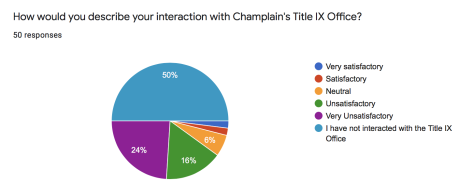 Half of the survey respondents said they had not interacted with the Title IX Office, but the other 50 percent varied in their satisfaction with any interaction with that office. In fact, 40 percent selected "unsatisfactory" or "very unsatisfactory" when evaluating their experiences.
The survey also gave students an opportunity to share details of their Title IX interactions.
One student wrote that it took almost a week for the Title IX Office to get back to her after she filed a report. "It was the week before finals last semester, and it felt like they were rushing me, and that they had to finish the process that semester and it couldn't follow through to next semester. As the victim, it felt like they were trying to figure out if I was [telling] the truth rather than helping me," she wrote.
Another student shared that they reported their abuser after enduring a sexually and emotionally abusive relationship. This source wrote, "Title IX did nothing and gave me no info on the process and other laws and procedures they could follow." 
This individual went further, having a one-on-one conversation with a member of the Title IX Office. They shared, "when I met with her one-on-one to express my grievances and concerns for my safety, told me quote [unquote], 'I'm sorry you feel that way' when I said I feared for my life."
This person also divulged that they were put in classes with their abuser, even after receiving a no-contact order.
One Resident Assistant reached out to the Title IX Office on behalf of one of their residents, after they had reported being touched repeatedly without their permission. A month later, the resident asked about the typical response time from the Title IX Office. The RA reached out to the Title IX Office, and wrote "I received an email from the then Title IX coordinator saying that the report had been "lost due to a technical error" and that the student had since been reached out to."
Just over half of respondents shared that they have witnessed sexual harassment, assault, or misconduct involving Champlain students.
Berube did not want to discuss these individual cases due to the college's policy on confidentiality.
Discussion with Champlain's Title IX Office 
Danelle Berube's role is to "oversee the College's investigation, response, and resolution of reports made under the Sexual Misconduct Policy," according to Champlain's Sexual Misconduct and Title IX webpage. 
When members of the Title IX office receive a report, they reach out to the person who submitted the report and outline next steps, Berube said. College officials provide information about support measures, additional reporting measures outside of Champlain, and an overview of the investigation and adjudication process. 
The office also connects the student with a deputy Title IX officer or the Title IX coordinator to meet to explain the information they received. The student is not obligated to meet with the Title IX office.
"There is sometimes a misperception that submitting a report will automatically result in an investigation," Berube wrote. "This is not the case. Anyone can submit a report, and doing so is a way to access supportive resources and information."
Upon submitting a report, the student has the option to make it into a formal complaint. The report becomes a formal complaint when the student signs it. A formal complaint results in an investigation in either a Title IX, Sexual Misconduct, or Community Standards process, depending on the nature of the complaint.
Berube also describes what happens when someone is accused: "Individuals named in formal complaints of Sexual Misconduct and Title IX are notified as required by Title IX regulations and the College's Sexual Misconduct policy. Individuals named in reports are not notified."
If an individual is named in several reports, showing a pattern, Berube wrote, "a Title IX Coordinator would submit a formal complaint on behalf of the College and potentially initiate an investigation without the consent of the reporters."
When asked in a follow-up question how many reports it would take to show a pattern, Berube responded with the following: "Reports are evaluated with respect to the nature of the reported behavior prior to determining whether a formal complaint is filed. Whenever possible the institution will respect the wishes of the reporters unless there is a compelling safety risk or concern."
Berube explained that denying access to certain opportunities for both accusers and the accused based on reports or allegations would not fit with Title IX regulations or "the basic tenets of fair and equitable treatment." 
"Students who have been found responsible for violating College policies after an investigation and adjudication process are issued sanctions which include a spectrum of possibilities and are outlined in the Student Catalog," Berube explained.
The Sexual Misconduct Policy at Champlain "prohibits retaliation against a person because they have reported, complained about, or participated in good faith in an investigation of conduct covered by this Policy."
Berube explained that the office receives few anonymous reports. 
"The College follows up on all anonymous reports to the extent possible with the information provided," she wrote. "It is typically more helpful when we can follow up with a reporter to clarify information, ask questions, and discuss next possible steps for gathering information."
Berube encourages students who feel that a Title IX situation has not been thoroughly investigated to have a conversation with the Title IX office. 
"The College takes all reports seriously and strives to remove all barriers to reporting as well as accessing support and resources," Berube wrote. "Issuing consequences based on speculation or rumor would be a violation of Title IX requirements."
On March 22, the Title IX office released a 'Culture of Consent Survey' to all students. The survey asked questions about knowing where to find resources for Title IX or sexual assault issues, how likely the student believes the college would support them with such issues, and what actions a student would take when faced with a Title IX issue. The survey closes April 1st.
The Bigger Picture: Title IX on Burlington Campuses and Beyond 
Title IX of the Education Amendments of 1972 "prohibits sex (including pregnancy, sexual orientation, and gender identity) discrimination in any education program or activity receiving federal financial assistance."
Title IX was passed in 1972 due to inequalities in education women faced based on gender before the 1970s.
A 2020 report from the AAU Climate Survey on Sexual Assault and Sexual Misconduct found that 41.8 percent of students reported experiencing at least one sexually harassing behavior since enrollment. Survey results derived from over 100,000 students across different American universities. 
When reporting their own sexual assault, misconduct, or harassment incidents, surveyors found that "35 percent of students of respondents who contacted a program or resource, students felt it was "not at all" or "a little" useful, while 40.7 percent felt the program was "very" or "extremely" useful.
On Feb. 18, 2022, VTDigger published a story titled, "UVM Instagram posts renew furor over sexual misconduct on campus—before disappearing." The University of Vermont's official account congratulated the men's basketball team on their sixth straight America East Regular Season title. Incongruously, the same posted noted that UVM takes allegations of sexual misconduct seriously, and students can report incidents through the Office of Affirmative Action and Equal Opportunity.
The post then stated, "Anonymous accusations on social media are not helpful to victims or to anyone impacted by sexual violence." 
The entire post was deleted less than 24 hours later.
Members of UVM's basketball team had previously been accused of sexual misconduct. Students have anonymously shared instances of sexual misconduct, harassment, and assault with members of the basketball team, as well as other people on campus, on the Instagram page @shareyourstoryuvm.
In August, UVM announced a "Sexual Misconduct Prevention and Response Action Plan," partnering with Hope Works, an organization dedicated to ending all forms of sexual violence.
A story that ran in The Crossover on Oct. 6, 2021, indicated that UVM students still were unsatisfied with the support the university was giving them. Maya Greally, one of the founders of @shareyourstoryuvm, said at the time, "There needs to be a fundamental change in how UVM as an institution addresses and handles sexual assault, not a few remedial Band-Aids."
Students felt that UVM's administration could do more to make their students feel safe.
Brown University has weathered similar criticism. The Brown Daily Herald published several articles in 2021 regarding sexual misconduct at Brown University. One article shares the stories of four women, all either current students or recent alums, who pursued a lawsuit against the university for lack of investigation and assistance in their encounters of sexual harassment, assault, and misconduct.
These instances at Brown included unsolicited recording of sexual activity, abusive relationships, assault, and rape, according to the Daily Herald article. In a joint statement, the four women said, "Survivors at Brown are silenced, harmed and discouraged from seeking justice by the University."
The article mentioned Brown's new sexual and gender-based misconduct policy, introduced in March 2021. The university also created a new online reporting forum for students to make reports anonymously. It was created in response to a 2019 survey that found "31.2 percent of University students surveyed had 'little or no knowledge' about where to make a report of sexual violence or gender harassment whereas 30.4 percent were 'very or extremely knowledgeable.'"
The lawsuit also touches on Brown's failure to properly train students and employees regarding sexual misconduct.
The Brown women's representative, Kimberly Evans of Grant & Eisenhofer told the Herald in this article, "There have been cases around the country that have been successful in enacting the change that we are seeking at Brown."
This article is published simultaneously with an editorial titled "How Champlain's Title IX Office Can Make Procedures More Clear."
Update 3/31/22: A student's name was removed from the story due to discomfort.
View Comments (2)