Do Game Students Neglect Their Hygiene?
There is a stereotype about college students that they are broke, poorly fed, and probably hungover at inappropriate times. Whether this is true depends on the student you ask. However, there is a stigma around Champlain College students, specifically those in the Game Studio and ITS division, that they neglect their health and well-being. These rumors are often tied to a joke or jab, but there may be harm in joking about this issue.
The Stigma of Poor Personal Health
You can find rumors of Champlain's hygiene in many places. The student-created, non-college-affiliated Instagram account, @champlain.igim (formerly @champlain.imgladimissed)  mentions the issue repeatedly from anonymous commenters. It's often one of the first things brought up when the Game students are mentioned, and there are hygiene disclaimers in some Game professors' syllabi. Just after moving to Champlain College, I was interviewing for an off-campus job, and after letting them know what school I attend, the interviewer asked me, "You shower, right?" 
Lucas Spiker ('23), a Game Design student, explained the origins of the stereotype.
"A lot of the people in the Game majors fall into the typical 'nerd' category, which is where the stigma really comes from. The joke is always about the bad smell at a card shop, or a Smash melee tournament." Spiker said, adding that while there is a lot of truth to the stereotype, it's mostly a "one apple spoils the bunch" scenario that causes a bad reputation.
Game Design major Max Schroder ('26) believes the issue extends past sanitary negligence. He said first that people from all majors have these issues. However, people see a Game student neglecting their health and feel confirmed in their biases. According to Schroder, many (but not as many as it's made out to be) Game students have a habit of neglecting most aspects of their health; including diet, sleep, and social life. 
"It's often that they put their workload off to the very end and procrastinate on it and then do it just the day before, or they'll try and get it all done in a certain time, so they don't have to deal with it later," Schroder said. "But then by doing it all at the same time, they don't have time to do ordinary stuff like eat or even sleep."
Crunch Culture and Health in the Game Industry
Jonathan Ferguson, a professor of Game Design at Champlain, and a first-hand witness in the Game field, described "crunch culture" in the Game Development field. Crunch culture is characterized by game developers working 10 to 12 hours a day in circumstances where they cannot go home. They stay in the office all the time, leading to unhealthy habits. According to the GDC's State of the Game Industry 2021 report, after surveying about three thousand game developers, 24 percent of respondents worked more than 66 hours per week at least once a year, with nine percent working more than 81 hours. These are the most extreme cases; the majority of respondents reported working an average of 40 hours a week, the American professional standard. 
If students live like they need to work 60 to 80 hours a week during their four years of college, their health will have serious consequences. Lucas Spiker believes that these stereotypes and jokes make Game majors and Champlain students feel as though poor personal health is a regular part of the industry rather than a flaw. He mentioned that these jokes are recent; they didn't exist when he was a first year and the issue wasn't as widespread.
Both Spiker and Ferguson attribute crunch culture to social pressure. Ferguson explained how it can sometimes be managers pressuring workers, but it is often an individual's choice to not be "away from keyboard" (the industry term being AFK) that can lead to poor personal hygiene.
"In the surveys that the game industry does to check on itself, it is very often the case that crunch is not required by the employer at this point in time, but that individuals opt in to crunching," said Ferguson.
However, not every student bends to the will of peer pressure. 
"I mean, these days, we have students who are working and they're also very athletic and they're very successful academically. Where do you pigeonhole that person? Right? And then we're back to the problem of stereotypes," Ferguson said. 
Ferguson also explained how developers work in very close proximity to each other. If a programmer has a bug, they might call somebody over to their machine and sit together for an hour or two of debugging.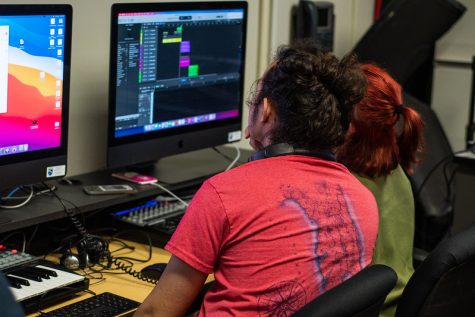 "Generally speaking, developers want to be around other people who are taking good care of themselves. So if you go to GDC (Game Developers Conference), for example, you're not going to find negative stereotypes of poor hygiene really in play," Ferguson said. "You're going to find working professionals dressing as working professionals."
Champlain and Its Students' Health
Champlain College is a school focused on "professional readiness." This means they attempt to make their programs as rigorous as the careers they are preparing for. This begs the question: Does Champlain suffer the same stresses of the game industry? Spiker believes the pressures might be worse in the school setting.
"Overall, the workload now is probably more intense than once you're actually working a job," said Spiker. 
He added that in a job setting, one can step away from their work at the end of the day, excluding a crunch period, but time management in school doesn't always allow for those long breaks. 
According to Ferguson, Champlain's Game Studio tries to minimize the attitude of crunch. 
"It's not uncommon for faculty to be assessing if a student has overworked that week, they will get a demerit on their grade," Ferguson said. 
He explained that the Game Studio does this because an overworked student will become tired, and all the work a student does after the overworked period suffers. This is also known as burnout.
Ferguson has a clause in his syllabus in regard to personal hygiene that says, "please take care of yourself." He explained that students who are learning to become game developers are in a state of transition into adulthood, and that any "unsavory" practices they may have had as a teenager can and need to be corrected.
Schroder feels there is also a significant issue outside the classroom—specifically the dietary consequences of Champlain's food options.
"I know some people who will be up mostly throughout the night and not during the day. And if food, especially campus food, is open only during the day, then they're not going to have as many options to eat at night," Schroder said.
The Champlain dining hall currently closes at 7 p.m. on the weekends and Mondays and at 9 p.m. during the week. This encourages nocturnal students to order from the open-later grill, EATS, which serves much more limited and less healthy options. The other option is to order out to eat, which can be difficult and expensive with the Burlington restaurant ordinances.
Advice for the Game Student
When speaking with these game designers, I wanted to know how they protected their mental and physical health while handling their workloads. Here is what I gathered:
1. Get into a routine of showering, eating, brushing teeth, and connecting with people at a specific time every day. If you cannot afford deodorant or personal soaps, a supply is available in
Chauncey's Cupboard in Perry Hall.
"People who are incredibly productive creatively, often happen to have a very consistent, predictable schedule. Whether you're a famous writer or showrunner or whether you're an animator or an artist of visual arts of any kind or when you're doing game development or any other such discipline, you're gonna need to have a schedule that is very repeatable," said Ferguson.
2. Step away from your screen frequently.
Your laptop, your desktop, and your phone are all addictive devices. Spiker mentioned going for walks, and Schroder suggested stepping away to workout and eat regularly. Ferguson called phones a "punishment" inflicted from the era of pagers and to consider what it's doing to our attention spans.
3.

Check in with yourself
regularly- How are you feeling mentally and physically?
4. Wear blue-light glasses, or adjust your screen settings to avoid eye strain.
Here is a helpful (although somewhat pandering) list of other ways to stay healthy while gaming.
There are many reasons why someone may be struggling with their personal health. It's not always neglect, and it's not directly attached to the Game majors or Champlain students. If you are struggling to maintain your personal or mental health, don't hesitate to contact Champlain's Health and Counseling centers or speak to your advisor.
Leave a Comment