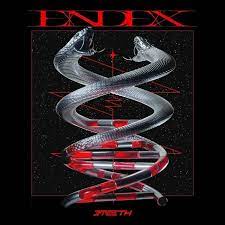 3TEETH is an industrial metal band with a snake-like bite on its listeners from the time they press play to the end of any album. The bite leaves listeners feeling desolate and hopeless about the Earth. 3TEETH's fourth album, EndEx is another shining example of this, as it sees the band continue their socially conscious writing style from their 2019 Album, Metawar. This style is paired with flashiness and spectacle that echoes the bands beginning as an art project back in 2011.
Gothic Tracks
Each track offers a new bite from the snakes on the cover art, a seething reminder that things are slowly decaying with no hope to fix them. The tracks express this sentiment while also offering an outlet for the rage and anger one should feel in the face of this truth. As each track continues like layers on a messy, grimey sandwich, one feels like they're being filled with biting electronics and enough destructive energy to cause an apocalypse.
Songs like "Slum Planet" and "Merchant Of The Void" echo this attitude the loudest; in lines like "The only thing here built to last / Is the engine that turns your world to trash" and "If you can't see your future, I'll sell it to you" from each song respectively. With these lines the band is showcasing a world of trash, greed and corruption. In the spoken-bridge of Slum Planet, it ends with the phrase "Thank you for your donation" and a cash-register noise, continuing the song's message of "live for today, they'll clean our mess up tomorrow."
The band also experimented more with different sounds, such as nu-metal in the tracks "ALI3N," "Scorpion," and "Paralyze," the latter of which features alternative hip-hop group Ho99o9 (pronounced "Horror"). These experiments come at different points in the album but don't detract from its cohesiveness, as the band utilizes them almost as well as they utilize Australian composer Mick Gordon, the composer of the new DOOM game's soundtracks. Gordon's co-production on this album sees him delivering an even larger sound.
Everybody Wants to Rule The World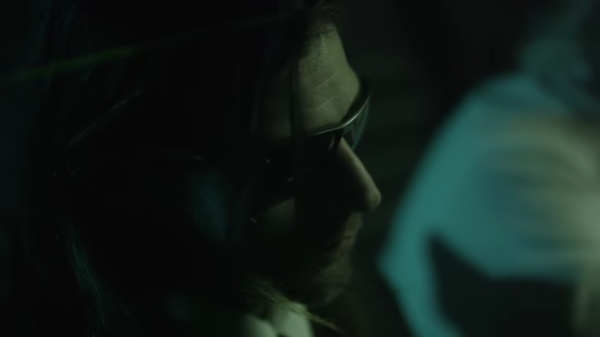 3TEETH concluded EndEx with a cover, as they did with Metawar. Tears For Fears' seminal classic "Everybody Wants To Rule The World" is given a fresh coat of paint and a few bullet holes to fit their apocalyptic sound. The track's gothic disposition isn't lost here. After 45 minutes of being shouted at about how the planet is dying and you should be upset, this neo-industrial group delivers the big promise listeners expect from a cover of this legendary song.
Alexis Mincolla's growl strips this track down to its metallic endo-skeleton, continuing the softness they used in the penultimate track "Drift." This softness creates a dancey yet poignant cover. The music video continues this sentiment, as it sees the band dressed formally, driving to the desert in shots reminiscent of films like Lost Highway, or the work of Quinten Tarantino, before unloading round after round in a bunker.
The album released on September 22nd, after 2 years of development. The album's messaging is clear from the advertising and marketing used to convey the ideas. Mockeries of FedEx's logo and font were found in posters. The six singles of EndEx all show different sides to this album, like the helix of snakes on the cover. One side is soft and methodical, one is ferocious and won't hold back. Finally, the usage of the mass commodification of necessities makes this neo-industrial band's fourth album one of the greats. Overall a solid 10/10 album, deserving of the title "The Best Industrial Release Of 2023."bites down on politics and social issues