Champlain's Women and Gender Center Wants You to Visit
The Women's and Gender Center (WGC) is a greatly underutilized space. Since the start of the COVID-19 pandemic, visitors have been few and far between and awareness of our space has decreased with each incoming class. 
We want to change that; we want the rush of students discussing current events, attending our events on our couches, or just getting some homework done and bonding with other students. Students are always welcome, and wanted!
Not having students in our space is potentially damaging to members of our student population who might not hear about important resources that we provide. As well as advocating for and creating programming around our LGBTQ+ students and being the home of the Chosen Name Process, we are also a center for information on sexual assault awareness and prevention. 
One huge misconception about the space is that it is just for LGBTQ+ students and women. In reality, we are welcoming to all students, faculty, and staff regardless of gender identity and sexuality. Many of our events are geared towards underrepresented communities, but the WGC is also just a space to take a break from the stress of classes and get something to eat.
Harper Bennett ('24), a WGC employee and frequent visitor of the space with all his friends, explains how he utilizes the office outside his work hours. 
"The Women's and Gender Center is one of the most comfortable places on this campus. The chairs and couches are super nice, plus I really like how there are always snacks and drinks available! It definitely makes me feel very safe," he said.
There is a certain energy in the WGC, and Bennett appreciates the student art on display. 
"The room is extremely well decorated and is super colorful, and just feels really energetic," Bennett said. "The WGC is just a nice place to just hang out with people and do work."
Another resource the center provides is information on safe and healthy sex, as well as contraceptive supplies. This 'sex positive' approach really helps students feel comfortable asking questions and getting the information they need. Keeping these resources available depends on levels of student engagement with the space. 
Although we have Chauncey's Cupboard on campus to help with food insecurity, many students have expressed comfort that the WGC has snacks available to grab in passing. This especially applies to many Information Technology Systems (ITS) and some game major students who have classes in Skiff Annex, potentially for continuous hours without extensive breaks.
One student explains that his classmates get exposed to new ideas that they wouldn't normally, which often starts with wanting to stop in for a snack. 
Whatever their motivation, step one is always just getting students in the door. We can and have opened the door to tough conversations about language, biases, and misconceptions. Education is one of the main priorities of the WGC, and we want to continue to have these intense conversations with students and engage them with issues they may not have previously considered.
As for our frequent events, we have done anything from raft nights to comedians. The WGC has such a variety of programming that every student can find something they enjoy. The homely and intimate atmosphere in our space is a vastly different experience than some of the larger events on campus. 
"From movie nights and popcorn to tie-dying events and scavenger hunts- there are multiple events hosted by the WGC weekly. That the space is open to and welcoming to everyone to use," says Krissy Thompson ('22), a Social Work major and intern at the WGC.
Although we have a wide range of events, they all focus around three themes. These include: sexuality and gender, sexual violence prevention and education, and leadership and empowerment.
Our center is also home to the Chosen Name Process, which is the process for students who want to change their name in the college's systems for whatever reason. We also participate in other advocacy work for our transgender students, and this is just one facet of those resources. 
WGC has hosted many panels and workshops for both staff and students. We have been hoping for a few years to do an LGBTQ+ retreat and plan to as soon as the pandemic allows. 
For sexual violence awareness and prevention, the WGC connects students with campus and community resources. We have also hosted open panels with the Vice President of Student Affairs & Emergency Management Coordinator, Danelle Berube, to discuss the Title IX processes at Champlain College and wider. 
We hold regular events regarding consent and similar topics and plan to have a wide range of activities for Sexual Assault Awareness Month (April), which in the past has included a Sexual Violence Luminaria ceremony. This event encouraged students, and especially survivors, to write their names or stories on paper bags and light them up with candles.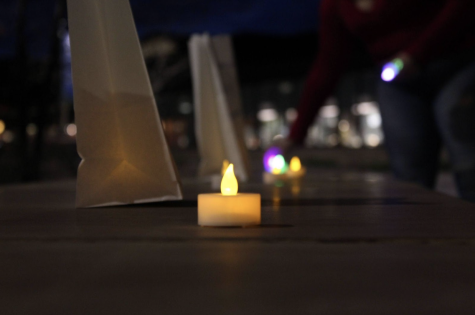 In other events such as our Leadership Tea, we highlight and work to strengthen the leadership of students at Champlain College. Many of our student leaders, such as Resident Advisors, collaborate with us to plan events and develop other in-hall information.
Remote learning has forced some events back online, but the WGC hopes to still be able to foster in-person interaction. Our programming and information relies on your engagement, so please connect with and visit us as soon as you can!
Follow the Women's and Gender Center on Instagram (@champlainwgc), or email [email protected] with any questions, concerns, or suggestions! Hope to hear from you soon!
Leave a Comment