Alex Hernandez Named Champlain's Tenth President Amidst Leadership Turnover
Hernandez is set to take over in June 2022.
On Dec. 9, 2021, Alejandro "Alex" Hernandez sat upon the stage in the Champlain Room at Champlain College, introducing himself to students, faculty, staff, and stakeholders. Although there were some audio headset issues, causing a switch to handheld microphones in the middle of the discussion, Hernandez shared an engaging story, showing how his experiences make him especially well-suited to become Champlain's tenth president.
Hernandez's mother was born in the Philippines during World War II, under Japanese Occupation. When she was growing up, there were not many career options for women. She began working office jobs, eventually becoming a schoolteacher. As Hernandez shared her story, he held back tears, apologizing for getting emotional. 
Hernandez's father's family moved to the United States from Mexico. He began his college education in California, but withdrew before graduating.
Not long after, an educator in his father's community invited him to participate in the National Teacher America Corp, helping people become teachers in underserved areas. 
His father returned to college, graduated and began working in public elementary education. From there, he found an interest in secondary education and spent the majority of his working life as a high school guidance counselor, helping others further their education and careers.
"On both sides of my family, there [were] always educators and mentors along the way who we were fortunate enough to have helped us along in our journey," Hernandez said, and these people inspired him to become that educator in others' lives.
Hernandez's family's experiences informed much of his approach to education. 
"There's a lot of talent everywhere," he said. "It was in my parents, even though not everyone saw it."
Hernandez arrives at Champlain as the fourth president in five years, including interim presidents. He faces a time when Champlain struggles in its sense of direction.
Administrative changes are prevalent in schools across the country, dating back to before the pandemic, and at Champlain, the turnover has been present throughout various staff and faculty positions. In November 2020, seven out of nine employees in the Office of International Education were removed from their positions.
The Crossover staff sent a survey to students regarding their opinions on presidential turnover. 
A few of the responses: 
Filmmaking major Madison Chute ('22):
"I do think that the turnover is hard for students in general because there are lots of rules and regulations that seem to be constantly changing. I think it would have been best to have one steady leader to get the Champlain community through this pandemic."
Professional Writing major Sam Wilhoit ('22):
"There's been a lack of identity and authority of who the college is and what they stand for and against."
Degree Design Lab major Ava Ferguson ('23):
"The turnover of presidents at Champlain makes me wonder why our school seems to be such a temporary destination for highly qualified professionals that have taken the opportunity to lead here. Is there something going on behind the scenes that can be considered unethical, or dissatisfying?"
Filmmaking major Kol Spielvogel ('23):
"I'm not even quite sure what a college president really does besides speeches and sending emails every time some current event happens, which tend to express the exact same views and opinions as the email from the college itself."
Champlain College has only had 10 presidents since its creation in 1878, but the last few years have seen half of them.
Donald Laackman resigned in 2019, prompting Laurie Quinn to take over as Interim President. 
Benjamin Ola Akande departed from the college in April 2020 due to a job opportunity at Stifel in St. Louis.
Akande's departure created space for Interim President David Finney to take over, who was already assisting Akande as a consultant.
Judy O'Connell has been Chair of Champlain's Board of Trustees since October 2021, and she has been a member on the board for over 10 years. She attributes some of the recent challenges to Covid-19. "You add leadership turnover, that's quite frankly exhausting,"she said.
O'Connell, as well as most members of the Champlain community, hope Hernandez is here to stay. In an interview with The Crossover, Hernandez shared about his own life.
Like his parents, Hernandez's personal experiences informed his passion and philosophy for education.
Hernandez was born and raised in Stockton, CA, pursuing his Bachelor's Degree at Claremont McKenna College in Claremont, CA. He earned his Masters in Business Administration and Masters of Arts in Education from Stanford University.
Hernandez applied and interviewed for dozens of jobs during his senior year of college. He didn't know anyone in business growing up, so learning how to navigate professional spaces and understanding cultural norms for interviewing were new concepts for him.
"I just remember how difficult that period was for me," Hernandez explained during an interview in January. "Funny enough, that was the hardest time I ever had finding a job."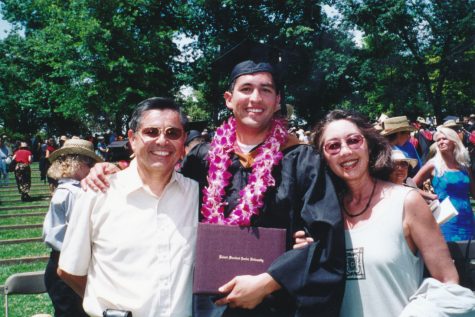 "I remember feeling alone in figuring out how to take that next step in life," he said. 
He received a job offer in the final days of campus recruiting. His education career began when he took a position as a high school math teacher in South Los Angeles.
Hernandez' own path allowed him to gain passion for leading students like him. At Champlain, he said he hopes to focus on a career-forward education, allowing students to learn major-specific content, but also teaching them how to move forward after college. This is prevalent in the college's 2030 Strategic Plan, as well as creating new innovative academic programs, and making the college more accessible to diverse groups.
He emphasized that his goal is to remain at Champlain for the long run, helping students "launch their lives." He specifically takes interest in Champlain's innovative programs, entrepreneurial mindset, and special relationship with the state of Vermont.
Hernandez said he will make monthly visits to Champlain between now and June, engaging with students, faculty, and staff to build relationships and learn about the institution. 
"This isn't a stepping stone for me, this is an opportunity to work on issues that I've been working on my whole life," he said. 
Hernandez loves poetry, and cited a phrase from Mary Oliver's "The Summer Day."
"This is how I want to spend my 'one wild and precious life,' working on these issues," he said. "I'm really just excited to have that opportunity."
Leave a Comment