From Marketing to Muffins: Kelsey Hatch's Mobile Bakery
Her journey involved sweat, tears, and a lot of sugar.
Kelsey Hatch is almost as sweet as the brownies she sells from her tiny pink trailer in a Burlington commuter parking lot. As I walked up to Hatch's innovative business, she greeted me with a welcoming smile.
"It's on me today," she said as I snapped a few photos of her in action behind the counter. I had ordered an apple cider donut — one of Hatch's specialties and one of my guilty pleasures. She insisted I have it on the house. 
Polite Crunch Bakery is Hatch's brainchild: a mobile bakery that serves commuters in the Burlington area. She currently works out of the 115 Lakeside Avenue parking lot, which is where I discovered her business one morning on my way to class at Champlain College. 
Despite her background in marketing, Hatch's passion has always been baking, which her supportive family cultivated. "Both [of] my parents really just taught me how to cook from an early age and encouraged me to participate in the kitchen, which I'm grateful for," she recalled.
Hatch's mom made German holiday cookies every year, along with other traditional family recipes, which inspired Hatch and created the foundation of her pastry and baking knowledge. 
It wasn't until she landed a job as a baker at Monarch and the Milkweed that she was able to fully explore her passion for baking. "I really loved it," Hatch said about the year she spent working for Monarch. "[I] learned so much about the food science of baking."
Before that, Hatch had been working in the marketing department of a local real estate company, as well as at an architecture and design firm. She enjoyed certain aspects, saying that "both communities at both companies were fantastic"; however, she realized at the end of the day that "marketing wasn't what I was interested in."
What she was really interested in was the Burlington community.
Through working in both the marketing and the food industries, Hatch discovered how much she enjoyed interacting with the community. "The basis of what I wanted to pursue is very community-oriented, so to be able to take my creative talents and personal interests and do that in the food community here has just been exactly what I wanted," she said.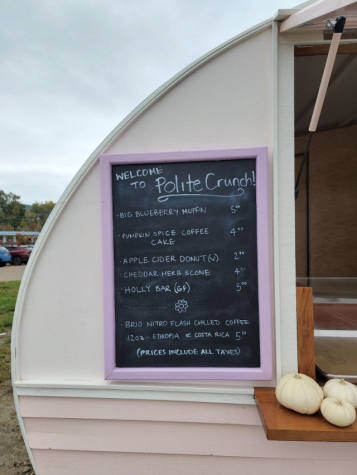 "Last summer I hosted a bunch of bake sales to raise money for different Black Lives Matter organizations and really enjoyed engaging with the community through baking and being able to give back," Hatch explained. 
Remote work during the pandemic allowed Hatch to explore her newfound passion more regularly. "When I was working from home in my marketing role I had more flexibility to be baking," she said. 
After some words of encouragement from her partner Quinn, Hatch decided to pursue baking full-time. "I thought that a good way to do that was through a mobile bakery where I could be in different locations serving multiple different audiences and communities," Hatch explained.
Polite Crunch Bakery is a food truck: a motorized vehicle that sells food products. The industry is rising in popularity; according to IBISWorld, there are 32,287 food truck businesses in the United States as of 2021, which is a 12.1% increase from 2020. 
"I always thought about a food truck in the back of my mind," she recalled. The idea seemed far-fetched until her partner Quinn, a skilled wood-worker, suggested building a food truck instead of buying one to save money.
She was in.
"We bought an old boat trailer in Mallets Bay and basically sanded it, painted it, and then he built up the trailer from there," she explained. "I mostly did finishing stuff and designing the inside. I don't really have any carpentry skills, so I was very grateful for his taking the lead on that," she added.
Thus, Polite Crunch Bakery was born. 
"One of my first [bake] sales was cookies and brownies," Hatch informed. "I described the sensation of biting into a brownie or cookie or any baked good that's crispy on the outside and soft on the inside as having a polite crunch." The name resonated with people on social media, so Kelsey ran with it. 
Owning a business can be complicated at times, but Hatch is optimistic. "I'm still figuring things out. The control over my own schedule has been great and now I think the biggest challenge is just growing pains," she said. 
"Right now I feel like I'm in the place where I want to say yes to everything, which I think sometimes can be an okay thing," Hatch said. "But a lot of the time, I just have a tendency to want to bite off more than I can chew and need to be like, okay what can you handle right now and what can you grow into eventually," she continued.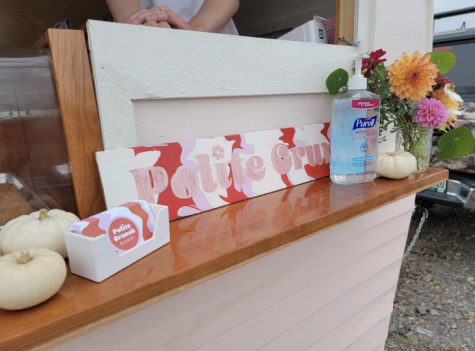 Going forward, Hatch hopes to break into the wholesale market and move into a commercial space. 
For now, Hatch continues to serve the Burlington community with her mobile operations. "I'm just so happy when I bake and so happy when I'm talking to people and meeting new customers," she told me with a smile. "Engaging with people through food is what motivates me."
Leave a Comment