Abbey B.K. and The Band to Play at Jim's Basement on Oct. 1
Two Champlain students prepare to take an underground venue by storm.
Champlain College students Abbey Berger-Knorr ('24) and Jack Googins ('24) have both had a passion for music from a very young age. On Oct. 1 at 7:30 p.m., they will join local musician Phil Sheridan as "Abbey B.K. and The Band" at Jim's Basement for a free show for all ages.
Jim's Basement is a small music venue taking residence in a basement. They host artists throughout the summer and a few during the colder months. Costs and eligibility for entry depend on the musical guest.
Berger-Knorr has been making music since she was three years old. She began writing music before she could play any instruments. Now, she is a self-taught guitar player and singer-songwriter.
"In 2020, I released my first EP and I have been creating my own music and putting it out on platforms ever since," Berger-Knorr said. "Abbey B.K. and The Band is a new addition to my musical experience because it is the first time that I have ever collaborated and played with other musicians and included others into my music-creating process."
Googins, however, has more experience working on music collaboratively, including working with his friend Luke McCarthy ('24). Googins and McCarthy have been playing music together for almost four years and were formerly involved with an on-campus band called "The Galahs."
"I personally think that music spreads joy and live music has been absent for a lot of us the past two years, so I'm excited that we are finally able to play live for everyone," Googins said.
This collaboration has allowed Berger-Knorr to add new layers to her "sound," as she described. Both Googins and Sheridan have brought their own talents and styles to her songs. Recently, she released her new song "Losing My Mind" with Googins on bass and Sheridan on drums.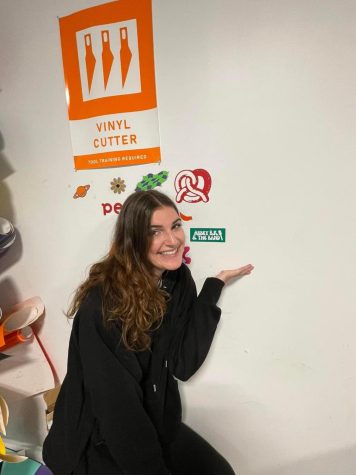 Berger-Knorr's music is a hearty mix of folk and pop, all of her songs written using an acoustic guitar. On her most recent EP, Back to Myself, each song features only her voice and her acoustic guitar. "Losing My Mind" takes a different approach, adding more of an upbeat element to Berger-Knorr's typical sound.
The set list for the show includes some songs the three created for an upcoming album that has yet to be released.
Berger-Knorr made the connection to Jim's Basement through her internship at Big Heavy World, a Burlington radio show highlighting local musicians, where she has been working and deejaying for about two years. The first time she ever played music live was at Champlain's open mic event, "The Grind." The support she received from that first show motivated her to continue playing.
"I've always been drawn to Abbey's music and lyrics and how powerful and real they are," Googins said. "I know how important her music is to her, and I also know that having her invite other musicians into this process was a major jump and risk for her."
Opening for Abbey B.K. and The Band is jazz duo Alina Jacobs and Noa Jacques.
Abbey B.K. and The Band will also be playing at Orlando's on Sept. 24 as a last minute addition, alongside Warped Floors.
The three musicians have yet to announce a release date for their upcoming collaborative album, but Berger-Knorr consistently posts to Instagram account @abbeybk_music with updates.
To receive the exact location of Jim's Basement for the show, fill out this form.
View Comments(1)