Birdie Bergeron Takes Burlington by Storm
Writer, actress, model, poet, and singer-songwriter behind Piccarda; Birdie Bergeron has done it all. Now, she's gearing up to finish the fall semester at Champlain College in the Professional Writing program and drop her upcoming EP. 
Bergeron has been an artist — in many forms — ever since she was little. She recalls, "When I was a kid, I used to tell my mom bedtime stories." 
This evolved into writing, acting in community theater groups, and, of course, making music. Her dad, also a musician, taught her to play guitar early on in childhood and was a huge influence on her creative career. Bergeron smiles when she talks about him, recalling fond memories. She says, "The first tune he ever taught me to sing was "Blackbird," by the Beatles." 
She and her dad still make music together. They co-wrote a song that will be on one of her upcoming EPs. 
Before Bergeron was part of the Burlington community, she lived in Montreal. She loved being in that city. There, she published her first poem, built a modeling career, and came into her own, both as an artist and a woman. She says, "That city was magical; everything from riding the train to the rats in the street. I was like, 'this is the most wonderful place on earth.'"
Her modeling career — even though she started freelancing and injected herself into the industry — surprised her. "I never expected that to take off because I'm 5'2," she explains. However, it wasn't the right place for her. She mentions how harmful the industry is, saying, "It was fun, but at the same time it was 75 percent just hating myself."
Getting out of modelling was half self-care and half a realization of the racism in the industry. Bergeron says, "As a white passing person, I was like, 'I need to make room for somebody else.'"
Also in Montreal, though, the poet in Bergeron flourished. Her first published poem, "Bahay," appeared in Soliloquies Anthology in Montreal. She was involved in workshops and readings there that pushed her to become a stronger poet. She was also surrounded by inspiration. She mentions riding the train around the city and getting ideas just from travelling and people-watching. She says, "I came up with my best ideas on the train." 
When she left to return to New England, she never expected it to be permanent. COVID made that decision for her when the border closed. That made it, "An even harder goodbye, in the end," according to Bergeron. "When I had to leave, it was like losing a piece of myself. I loved that city so much. But I'm scared to go back, because I don't think it's going to be the same as the Montreal that I'm thinking of."
As much as she misses Montreal, she's starting to feel that magic she loved there here in Burlington, too. She and her boyfriend, Matt, have lived here for a while, and it's starting to show in Bergeron's creative work. She's often inspired when writing songs by the place she's in. She says, "A lot of my music now is very, very Burlington." 
Not only does she have new inspiration, she's practically overflowing with it. Piccarda's release schedule is packed. Bergeron comments, "We have so much content right now and it's driving me crazy because I just want to put it all out."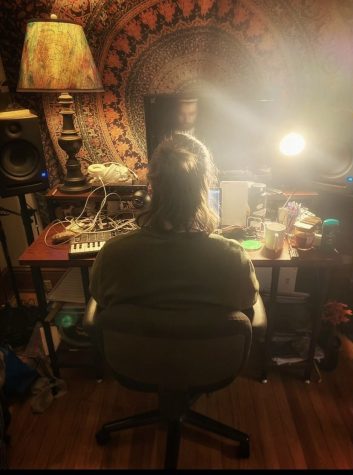 Said content includes two EPs and an album, plus Piccarda's roster building out. Previous releases have been just Bergeron writing, recording, and mixing, or made in collaboration with Matt. However, Bergeron announces with excitement that bassist and songwriter Kevin Riley will be joining the team, and will appear on future releases. 
The next Piccarda release to anticipate is one of their EPs, "The Vacation House." Birdie says, "It's in the works, is all I can say. And it's very exciting." 
There's no doubt that "The Vacation House" will be worth a listen. Bergeron reflects that being an artist has shaped how she's lived. She says, "It's just been my whole life. One creative project to the next." And the next steps in her creative life — this EP, the next, and Piccarda's upcoming album — will be something bright and beautiful to look forward to.
Leave a Comment