Impacts of Zoning on the Burlington Community
Preserving the South End Arts District in Burlington.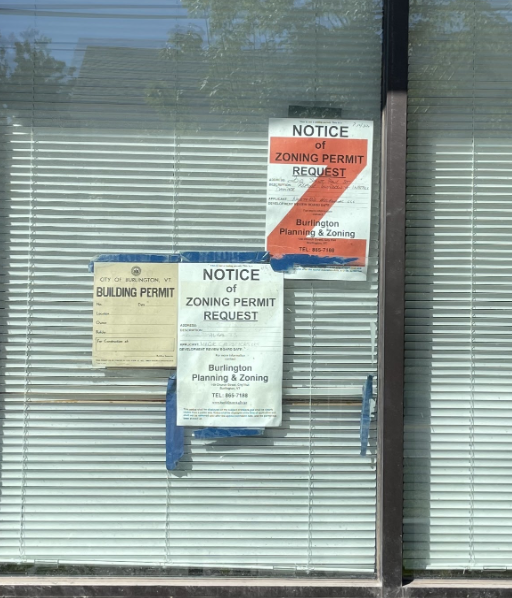 Walking down the streets of Burlington, you may notice posters with a large red capital Z taped to an abundance of buildings. These posters are indications of zoning, capital improvements being completed on a property; But, for the South End arts community, these posters could mean the potential loss of creative spaces and the liberties that come along with them. 
In the South End Arts District, members of the arts community fear that zoning decisions may intrude upon their artistic ways of life.  Many of the old industrial buildings in the South End are populated by artists and are used as studio or workshop spaces. If the city were to allocate spaces in the South End for other intended purposes such as housing, this would change the nature of the space that the arts community occupies. 
Jennifer Berger, professor at Champlain College and local artist and Jim Lockridge, Executive Director of Big Heavy World have been long-standing advocates for the preservation of the South End arts community. Both having studio spaces in the light industrial building on the corner of Howard St. and Pine St., Berger and Lockridge have a personal stake in ensuring that the needs of artists and small business owners are heard by the city. Back in 2015, Berger and Lockridge were voices for the arts community when a similar zoning plan was proposed and turned down due to fears of gentrification. 
"Development doesn't always have to be gentrification, but if it's done without good planning and without thinking about what's already in the neighborhood and how to improve that, it can happen pretty rapidly and detrimentally," Berger explains.
Community members, including Jen Berger, attended a summit in 2015 where zoning and land use issues were discussed across all different stakeholders in Burlington. Being an artist dedicated to spreading messages about social change and activism, Berger and other local artists created art pieces depicting timely issues happening in the city that were showcased at the summit. On top of discussing the impact of new zoning and construction of housing in the South End at the 2015 summit, the city of Burlington also created planBTV, an ongoing master plan for downtown and the waterfront. Berger explained, "There was an unbelievable amount of resistance from artists in the community because for a lot of people, this is our livelihood." 
Like Berger, Lockridge also rallied artists back in 2015 against the proposed zoning changes. He expressed the importance of artists' spaces: "When you're an artist or creative person, it's a special thing to have creative space to do what you do in. Artists typically have needs like the need to make noise or make dust. They need to be essentially in a light industrial place." 
Lockridge was a member of the South End Alliance, a group of artists who expressed concerns for the integrity of the South End and sought to become educated and share information about the issue to the wider Burlington community. He also created multiple posts on his personal blog, The Cherry Coal, which is dedicated to discussing art and democracy in Vermont. 
"There's lots of opportunity for the city to build around us without touching the light industrial zone itself," Lockridge states. "It's just an understanding that it is just as important to take care of your artists as it is to make sure housing is available."
Now, similar conversations and concerns expressed back in 2015 are being expressed once again due to the city's latest advances in zoning and construction plans. The city's newest proposition includes changes made to Pine Street allowing for residential development in an effort to provide more housing to Burlington residents. While there is a need for more affordable housing in Burlington, the changes could have negative impacts on existing residents of that area of the South End.
Russ Scully, entrepreneur and developer of the Hula coworking space on Lakeside Avenue (which was also discussed back in 2015) has been an advocate for the city to create more residential spaces as well as shops, restaurants, and a childcare center on the current parking lot on Lakeside avenue. The city's current plan supported by Scully also includes the creation of the Champlain Parkway and housing development on Sears Lane which has sparked controversy because of the city's recent eviction of homeless people who lived in an encampment on that same property. These propositions have created differing opinions among community members in the South End. Some individuals see the benefits of having housing close to their workshops or studios whereas others fear that changes will lead to gentrification.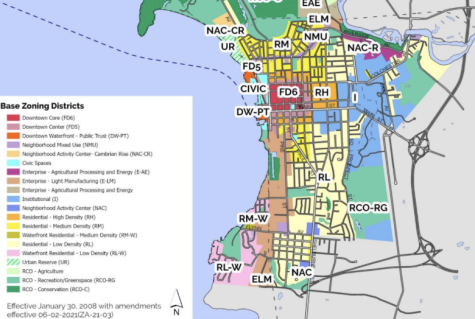 And, historically, gentrification in cities undergoing infrastructural development and zoning changes has been a contentious issue. The South End, deemed as an enterprise zone by the city, has the potential for artists and small business owners to be displaced.
Dr. Jonathan Banfill, professor of interdisciplinary studies at Champlain College and researcher of urban city planning, expressed the importance of the South End artists (and all citizens) being informed community members.
 "I'm a big believer of learning from place and learning from environments," Banfill explains. "My belief as an educator is that you should understand the processes and systems that are going on in the places you live." 
Banfill also emphasized the need for citizens to be aware of how zoning changes can potentially lead to gentrification and the displacement of certain groups of people. He described, "By following how the city is changing the zoning around certain areas, you are given an idea about the values of how people want the future to change."
Artists and small businesses owners in the South End will continue to advocate for their rights to their spaces and keep a watchful eye on the city's proposed courses of action for future zoning and land use changes.
Leave a Comment