Testing Positive: How to Navigate Covid Diagnosis as a College Student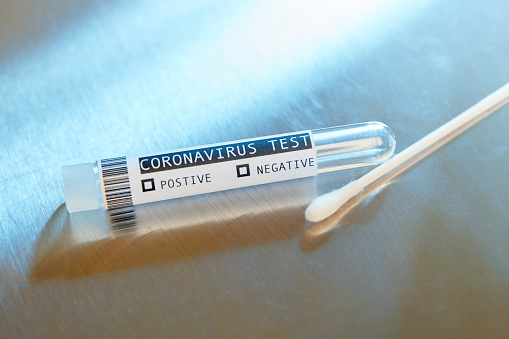 The last thing I ever expected when I took a rapid Covid-19 test on Oct. 21 was that it would be positive. I had no symptoms and had just come home from a long day of classes. As an employee at a senior living facility, I needed to be tested. When I arrived home, they informed me it was positive. Immediately, I went into isolation.
The first thing I did was contact friends I had been in contact with, specifically those I was around without wearing a mask. I then reached out to all of my professors, telling them what had happened, and that I wouldn't be able to return to classes until Nov. 1.
Mostly all of my professors were extremely understanding, telling me to take care of myself as much as possible while in quarantine. In my case, I was quarantined in my bedroom, as I did not want to infect any of my family members.
If you test positive, the most important thing to do is to take your own health into consideration; are there any assignments you need to ask for extensions on? Communicating with professors is the best way to navigate this, as well as participation in class. Some of my professors told me I could participate asynchronously with general assignments and work. Others had me sign on for a Zoom or Google Meet class. You must communicate your needs with them, or they will not know how to assist you.
For the first half of my quarantine, I was fairly sick. I was exhausted and found it difficult to complete work on time. Luckily, for the second half, I felt much better. I was able to do more work and actually get ahead on several things I was working on.
It's also important to have a support system you can rely on to keep you well. As an off-campus resident who lives at home with my family, I received care from those I lived with. If you are an on-campus resident, there are a few important steps to follow. First, send an email to [email protected]. They will give you more information about the necessary steps to take. Typically, residential students who test positive are moved to Whiting Hall, which is attached to the Student Health Center, to isolate. Food is delivered to the building, as well as other necessities, such as medication. Additionally, off-campus students are able to move on-campus to isolate if they are unable to isolate in their living space.
After contacting the Covid Health email, they will call you in order to determine what classes you were in, who you came in contact with (maskless and with a mask), and where you have been over the last 48 hours since your positive test result. You can choose to have your professors be notified of your positive result to excuse you from class. Those determined as close contacts will also have to be tested 72 hours after contact.
Being in isolation for this amount of time can get lonely, compromising your mental health. If you live on campus, student Health employees will call to check in with you every day. Make sure you have plenty of things to do to entertain yourself, whether it's cracking down on your must-watch movies list, opening the book you've been waiting on reading, or taking up an easy, new hobby. 
It's important to take precautions if you start to feel sick. Asymptomatic Covid testing is available at Whiting Hall, Monday through Friday from 10:00 a.m. to 3:00 p.m. Symptomatic testing is available by appointment.
I struggled mentally during my quarantine. I felt extremely guilty about the interactions I had in the days prior, even though I didn't know I had Covid. I worried for days about the test results of my friends and classmates, those who trusted me. Having or not having Covid is not something you can "trust." It just happens; sometimes there are ways to control it, and sometimes there aren't. In my case, I couldn't control the fact that I had tested positive. I couldn't have stayed home because I had symptoms, as I didn't have any at the time. If someone you know has Covid, avoid interrogating them. Having this sickness comes with a guilty feeling, especially since so many people around the world have died from it.
The best way to handle Covid physically is to rest. If you can't get out of bed for most of the day, that's okay. It's your body's method of telling you that this is the best way for you to heal. Laying in bed all day made me feel terrible, but moving around too much also made me feel terrible. It's a lose-lose situation. Sometimes, all I could do was take some DayQuil in the morning, crack open a book, and take a few naps throughout the day.
The best way to keep busy is to have a variety of things to do. I often switched between reading, watching movies, binging TV shows, and making small and manageable crafts. One thing I specifically enjoyed doing was making stickers into magnets, using a magnet board. I also facetimed and called people a lot for company. Interacting with people in any safe way possible is important, if you feel up to it.
As a whole, I'm grateful that my experience with Covid was not as bad as others who suffered through the sickness. I was lucky to avoid being hospitalized and suffering extreme health consequences. The most important thing I realized was: this pandemic is not over, and it's crucial that we stay diligent, listen to medical staff and scientists, and continue to fight the spread of Covid at all costs.
11/16/21 Edit: All students this writer came in contact with were fully vaccinated.
View Comments(1)