Should tuition be partially refunded due to COVID-19?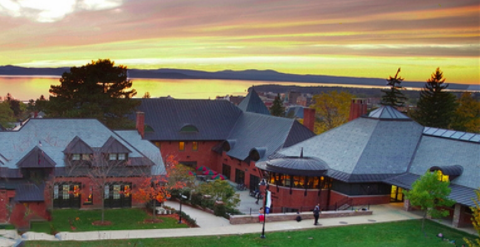 Champlain College Interim President Laurie Quinn sent an email on Thursday, April 2, informing students that they would not be returning to campus. She added information about work-study jobs, remote learning, and getting items from residence halls, but nothing on tuition.
She included: "With our decision to continue remote learning through the end of the Spring 2020 semester, we are able to finalize plans to provide refunds and credits for housing and meal plan costs. We recognize that the specifics of these plans are important to students and families and we are working to provide this information as quickly as possible. Please expect to receive a full communication on refunds and credits in mid-April."
Housing and meal plans will be refunded in some way, but what about tuition? Students are not getting the same education they would be getting if they were on campus. 
I emailed Compass on April 15, asking them some questions. They responded: "We wouldn't be able to answer anything specific at this time as our credit policy has not been finalized (or released) yet."
On April 28, Champlain College Student Accounts sent an email to students saying that "Students who departed campus housing between March 8–March 30 will receive a 44% credit based on their individual Spring 2020 housing and meal plan charges. This represents credit for seven weeks of the 16-week semester. The credit you receive will vary based on your specific residence hall, meal plan, and any amount you received in Champlain College scholarships."
They did not mention anything about tuition refunds.
Someone could argue that if professors are still teaching, students should not need a refund.
In my own experience, several of my professors have been great, reaching out to students and doing the best they can under the circumstances. However, some of my other professors have barely contacted my class at all. One of my core professors has barely contacted us and puts random assignments on Canvas for us to do from time to time. I don't feel that I'm getting my money's worth out of my expensive education.
Another huge problem is the classes that are much more difficult to teach remotely. For example, I'm in a Video Storytelling class currently, and although we have managed to do the class remotely, we aren't able to rent out gear, use certain programming, and give feedback to each other face to face. Although video calls are similar to seeing each other in person, it just isn't the same.
Game programs, such as Game Art, Game Design, Game Animation, and Game Management are a big part of Champlain College. How are these students working from home, when not everyone has access to the programs they need in order to do their work?
Last semester, I took a film photography class. How are the students taking it this semester doing their work without access to a darkroom?
Students are simply not getting the same education they would otherwise. Although this is not the college's fault, I strongly feel that students should be compensated in some way for this loss.
Many students have suggested paying the same as Champlain College Online's tuition, which is $318 per credit. I'm not sure if this is the right way to go, considering Champlain College Online classes are different than the ones we are participating in; however it's a step in the right direction.
Tuition and housing do not only cover where you learn and where you sleep but also the resources you use that you can't necessarily get otherwise.
Students even created a petition on Change.org, asking Champlain College for a partial refund of housing and tuition.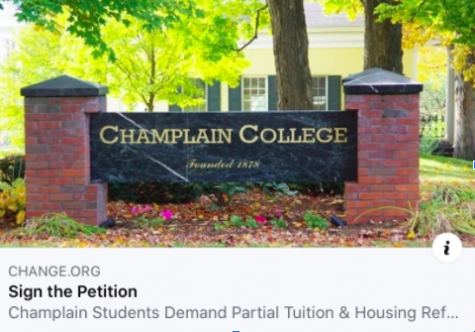 Shelsea Henry created this petition. Henry argued: "With this new change, students are losing access to fundamental resources that normally would be provided on campus, like tutoring, health services, counseling, etc. Most of these resources are already included in students' tuition."
1,500 (and counting) students, families, and friends have signed this petition, meaning they agree with the idea of a partial refund of both tuition and housing.
Tuition should be partially refunded because students are not getting the same education they would be in person at Champlain College.
Leave a Comment