Why Can the White Van…?
I remember reading the email, back in April of 2018, that Champlain College students would not be able to park in the garages below 194 St. Paul Street. Of course we couldn't.
It made sense originally; Champlain College made a deal with the city when they purchased the lot. The parking below 194SPS would be for public use, in exchange for constructing, well, the entire residential building.
Champlain gave us two spaces in the garages to use and you can only be parked in those spaces for up to 15 minutes. It's just long enough to drop off groceries or run up to get something from your apartment (I guess).
But Champlain College and the City of Burlington never actually check how long you've been down there. You're lucky to get away with parking in that space for longer than 15 minutes, but you're out of luck when you've barely made it into the building and someone is placing that yellow ticket on your windshield with fourteen minutes and thirty seconds left.
Students are paying $150 a semester to park their car a mile away from the residence hall and have to rely on inconsistent shuttles to get there. All this is happening at the same time someone's white van has been parked in the same spot, without moving, since May 2019.
No one really knows the origin story of this van. Who does it belong to? Where did it come from? Why is it parked here? Why does it NEVER move? Why can this white van be parked in the same space of the Maple Street garage, but 194SPS residents receive tickets, even when following the rules?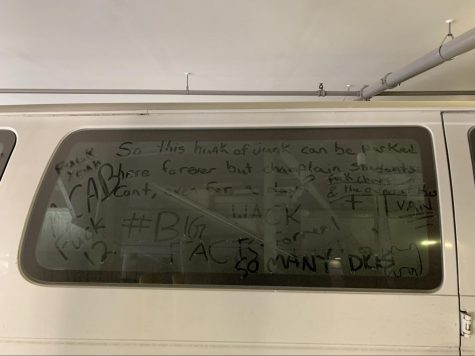 This van has seen better days, and it's a standing reminder of Champlain's pinching of campus parking. Students are paying more for parking that seems to be getting smaller and more scarce. We're also shouldering the burden of parking tickets when we're all broke. 
If the owner of this white van is able to lease out the parking space, then why can't Champlain students, who need access to their vehicles in times of emergency or to get to work/professional obligations. Why do we still receive tickets, even when we pay the city to be in the parking spaces?