Champlain-Administered Survey Shows Lack of Confidence in College's Ability to Handle Sexual Misconduct
Protests and social media sexual assault claims: what does it look like, one year later?
In March 2022, Champlain College students received an email from the Title IX office asking them to participate in a Culture of Consent survey. The email explained that in addition to existing reporting channels, "the survey gives us another way to hear from you about your perceptions and experiences regarding non-consensual sexual contact in our community."
In December 2022, students' email inboxes held the results of the survey. With at least 550 students clicking through the survey, 432 of those completing a portion of it, and 335 finishing the majority of the survey, the Title IX office was faced with various  results. Ultimately, they concluded in the report that "Students are less confident in the College's ability to handle sexual misconduct well, less confident that their peers will act in bystander situations, and more confident that they, themselves, will act."
Danelle Berube, vice president of Student Affairs and former Title IX coordinator, and Learning Assessment Director Ellen Zeman put together the report, finding three other conclusions on page 19 of the 27-page report:
"Students living Champlain residence halls are less likely than those living off campus to have experienced [non-consensual sexual contact, also known as NSC] To further explain that is because more of the respondents (70%) live in the residence halls. Only 12% of the students living on campus reported an NSC compared to about 25% living off campus;

Students reporting heterosexual orientations are less likely to have experienced NSC, whereas students reporting Bi-/Pan-/Demi-or LGQ+ sexual orientation are more likely;

We continue to see differences between the man-identifying, heterosexual groups and the other gender identities and sexual orientations."
Last spring, students at Champlain started criticizing the college's Title IX office after social media allegations of sexual misconduct surfaced on the non-college affiliated, student-run account @champlain.igim (formerly @champlain.imgladimissed). In May, several students organized a walk-out for people to share their experiences with sexual misconduct and list several demands for the college to meet.
Champlain also administered Culture of Consent surveys in 2016, 2017, and 2018. The section "Perceptions of Leadership, Policies, and Reporting" beginning on page 11 of the report compares how students' perception of the college's responses to situations regarding sexual assault has changed over the years. Chart 1 measures "percent agreement with statements about campus climate related to general campus safety" between these four reports.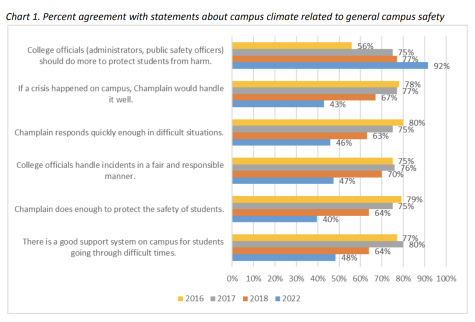 According to this chart, 92 percent of students who completed the survey in 2022 believed that college officials should do more to protect students from harm. This is a 36 percent increase from the 2016 results for the same statement.
Former Title IX Coordinator Danelle Berube responded to questions about the report via email. She said that these results are congruent with the challenges seen across the country in terms of Title IX.
"The 2022 results mirror the challenges colleges across the country are navigating in relation to the Title IX regulation changes that occurred in 2020," Berube wrote. "Around this same time, the MeToo Movement gained momentum, bringing a greater focus to these important areas of sexual violence, prevention, and education."
According to Inside Higher Ed, Betsy DeVos, former secretary of education in the United States, explained that the 2020 changes to Title IX on college campuses would secure due process for those reporting and being accused of sexual misconduct. These updated regulations also enforced the colleges' responsibility to respond to complaints of sexual misconduct."
"College administrators everywhere, including us here at Champlain, must work to balance desired expectations and outcomes versus the strict Title IX federal guidelines that we all must follow," Berube wrote.
Last spring, Berube wrote to students via email that the college was "increasing education and training, communicating differently about available resources, enhancing support for students, and making processes and policies easier to navigate."
Specifically, Berube explained that these changes include: 
a partnership with HOPE Works (a local nonprofit that supports and advocates for survivors of sexual violence), 

the Student Health Center

expanded its services to include medical forensic exams from a certified Forensic Nurse Examiner (FNE), 

new college-initiated education for all students regarding sexual violence protection and bystander education, 

the implementation of Dare to CARE, a wellbeing campaign that connects wellbeing and prevention initiatives across campus,

the college's website was reconstructed to better configure information regarding the Sexual Misconduct & Title IX policy, 

investment in a safety app called LiveSafe to be implemented in 2023, including features such as an emergency call button and a virtual walk functionality.
She also wrote that understanding students' perspectives and experiences is necessary to creating a successful partnership between Student Affairs, Title IX, and College administration "to create a culture of belonging and safety at Champlain."
Berube believes the initiatives the college has begun implementing are helping to build confidence within the student body that college officials can protect them.
"By continuing to raise awareness and understanding of what it means to submit a report, how to do so, and the step-by-step process that follows, we hope confidence will continue to build in our community so people know what to expect and who is available to provide the necessary support," Berube wrote.
Resources can be accessed on the Sexual Misconduct & Title IX page of Champlain's website.
Leave a Comment