Emotional Support Animal Process Leaves Residents Feeling Invalidated
Maggie Pono ('23) went back and forth between her doctors and Champlain College's Office of Accessibility three times before her emotional support animal (ESA) application was approved. 
Pono filled out an application for her hedgehog, Thistle, to live in her apartment at 194 Saint Paul Street. She then attended a meeting with the Office of Accessibility where she was asked questions about her mental health diagnoses and given paperwork to have her doctor fill out. 
"I have severe OCD," Pono said. "Having something that I can do as a routine that isn't like a compulsive routine, it's just like a routine I know that I can do" is helpful, she added.
Although Pono said her doctor filled out the paperwork with her diagnoses, the Office of Accessibility said it wasn't enough information. Pono had to go back to her doctor and ask him to provide more information. 
She sent the form back to the Office of Accessibility, and it wasn't enough. "They said it wasn't what we're looking for," Pono said. The person Pono was in contact with said the office doesn't usually receive the information from the resident's doctor—despite the college's website saying the form can be filled out by a physician. 
On her third try, Pono contacted her psychologist at home. Pono said, "when he looked at the form, he was like, these questions basically set you up to fail, so that they can purposefully say no."
Pono recalled her psychologist telling her that the questions were vague, and he could answer them in any number of ways. After her psychologist wrote a two-page letter to the office, they finally allowed Pono to have her ESA on campus.
Pono is one of several students who had trouble with the ESA application. While students are getting approved, they're having to fight every step of the way along the process.     
Emotional support animals, also known as assistance animals, are animals that provide therapeutic benefits, well-being, or comfort to a person with a disability. ESAs are different from service animals, which the Americans with Disabilities Act (ADA) defines as any dog trained to work or perform tasks for a person with a disability. Both service and assistance animals are protected under the Fair Housing Act.
Champlain College doesn't allow pets in any college building, but it does follow the ADA and the Fair Housing Act. This allows assistance animals in the residential buildings, meaning students who qualify can apply for an ESA to live with them in their dorms or apartments.
Under the Fair Housing Act, a person qualifies for an assistance animal if they have a disability, the animal is necessary for the person with a disability to have an equal opportunity to enjoy the living accommodations, and there is a relationship between the person's disability and the assistance the animal provides. Unlike service animals, assistance animals are allowed inside residence halls but not in other college buildings.
Vermont Legal Aid, which provides low-cost legal services, indicates that a person's housing provider cannot prohibit an assistance animal because of a "no pet" policy. Additionally, housing providers can't require an ESA to have any kind of special training, and they aren't allowed to charge a pet fee or deposit. However, Vermont Legal Aid mentioned that if an ESA damages the living facility, they can charge the security deposit to pay for fixing the damages.
Champlain College requires that the owner be responsible for any property damage or personal injury caused by their ESA. They also ask that the owner always has full control over the animal; the animal wears something to identify the animal, and appropriately cleans up after the animal.
According to Champlain College's website, students who want approval for an assistance animal need a request form from the Office of Accessibility. A physician or mental health provider needs to fill out the form, and the accessibility office will review it.
The college's website says "the Office of Accessibility assists qualified students with academic and housing accommodations, as well as requests for assistance animals. Accommodations are available to all currently enrolled students who have a documented disability that substantially limits them in one or more of life's major activities."
Erin Ferrara, the associate director of Accessibility Services at Champlain College, wasn't available to interview in person or virtually and instead responded to inquiries about the ESA process through email. She said, if the student is approved for an ESA, they will "be required to provide vaccination records and a clean bill of health from a veterinarian." Additionally, the student's roommates need to consent to have the animal in their shared living space.
She also mentioned that the process is the same for every residential building at Champlain College, and students interested in bringing an ESA to campus should contact The Office of Accessibility.
Ferrara wrote that "The process can feel complicated if a provider does not provide as much information as needed. Those are the cases where we have to go back to the student and provider to request more information, which can cause the process to take longer than expected."
If there isn't enough information, Ferrara suggests that students ask their provider to include as much detail as possible to help the office make a determination. A student may be denied if the provider does not give enough information, she added. 
"Most people that want an animal probably aren't going to go through all that," Maggie Pono said. "It's not an easy process, even with all the setbacks I've had. I feel like, to begin with, most people aren't going to take advantage of it because they can't, especially with the questions they ask."
Ferrara said there might be students who want to bring a pet to campus and use the ESA application to accomplish that. "Usually, once the student sees what the process entails and the information that we need from a provider, they do not follow through because they do not qualify for an ESA since they do not meet the criteria outlined in the Fair Housing Act," she said.
"[They] basically asked me every question about what I tried besides an animal," Pono said. "I was like, 'everything.'" Pono was asked if she had tried the school's counseling center.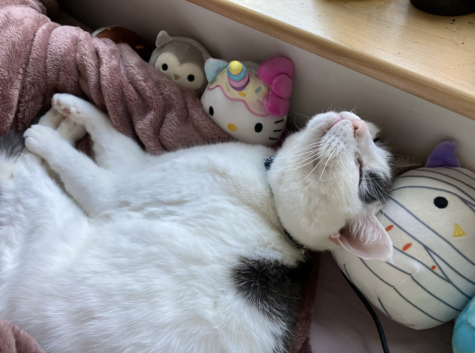 When Laura Dennis ('23) requested to have her cat, Murphy, allowed in her on-campus apartment, the college's Office of Accessibility denied her application and said she needed a better doctor's note. She decided to reach out to her counselor at Champlain College to write a letter of recommendation to appeal it. Finally, after updating the vet records, Murphy was allowed to live with her. 
Dennis adopted Murphy when she was ten years old and lived with him until she came to college. She decided to bring Murphy on campus when she remembered how much she cared for him and wanted that same comfort and motivation to get up every day. "I probably wouldn't feed myself if I didn't feed him," she said.
"I have PTSD," Dennis said. "[Murphy] brings me a lot of comfort and makes me feel like I'm not alone a lot of the time." 
Dennis found the process overly complicated and seemingly unfair, she said. "You have to know the right people to talk to be able to get the help for it," she explained. "The only reason why I think I was even able to get [Murphy] here was because my counselor helped me."
When asked if the Counseling Center helped students with the application process the Counseling Center said in an email that there is nothing they specifically do to help students get an ESA. 
The Office of Accessibility doesn't track the number of ESA applications because it sees it as an individualized process, Ferrara mentioned. She said that the majority of applications are approved. 
"We care for the well-being of our students," Ferrara wrote. "Our processes are designed to ensure that we are fair in our approach and that we provide the support needed for students to have a positive on-campus experience."
"The application process is very similar to the process that other schools in the area follow, and is as straightforward as possible," Ferrara said. She also added that the Office welcomes any feedback about its communication methods and procedures. 
The University of Vermont has a similar policy for ESA. Students fill out a "getting started" form, meet with an accessibility specialist, and provide documentation from a qualified mental health or medical provider. Washington State University has a similar policy where students need to provide a letter from a mental health professional, according to Inside Higher Ed. In 2019, Inside Higher Ed reported that Washington State University was receiving 60 to 75 requests a year compared to two or three in 2011. 
In September 2021, the Mayo Clinic gathered that 44 percent of college students reported symptoms of anxiety and depression. It also said that half of the students felt overwhelmingly anxious in the past year and suicide is the third leading cause of death for college students. 
Dr. Naomi Weinshenker runs a private psychiatry practice where she has many college-aged students. In her Psychology Today article, "Do College Students Really Need Emotional Support Animals?", she noticed during the pandemic, many of her clients who were studying virtually were adopting pets. 
In the fall of 2021, Weinshenker was being asked to verify the need for an ESA for many of her clients. She went through similar processes for her clients, where she had to provide information about how the ESA benefits the student. 
Weinshenker wrote that "emotional support animals can be an important part of a college student's mental health treatment." She said they're not the same as pets. While pets can provide humans with pleasure and help with loneliness, ESAs can be life-saving for someone with mental illness. She also mentioned a peer-reviewed study, published in June 2021 by Human-Animal Interaction Bulletin, that found sheltered animals helped to decrease stress, depression, and anxiety in adults with mental illnesses.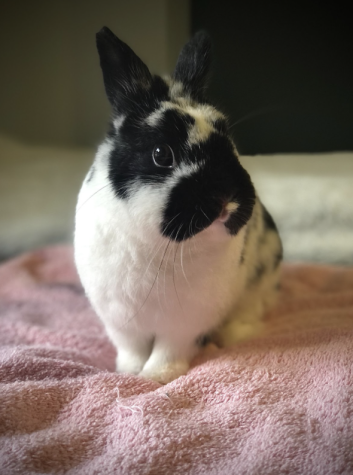 Desirae Byrd ('24) has owned her emotional support rabbit, Dan, since the seventh grade. "[Dan] largely helped me in managing my severe anxiety and depression," she said in an email. Bryd wasn't available to interview virtually. 
When Byrd came to college, she knew that she needed to get Dan on campus to maintain her mental health. Unfortunately, Dan passed away after Byrd's first year of college. "The upcoming summer I was really struggling with my anxiety and depression, so I ended up adopting another rabbit, Pepé," she wrote. 
Byrd spoke to her general practitioner, who assisted her with her mental health since middle school, and agreed that having an ESA on campus would be best for Byrd's mental health. From there, Byrd looked up the application and found that the website was easy to navigate. The overall process, Byrd said, isn't "easy at all."
Byrd said the Office of Accessibility requests more details from her health care provider about why she needs accommodations, despite having her information from previous years. Byrd doesn't remember if her initial application was denied, but this year when she had to resubmit her documentation for her accommodations, her ESA application was denied once and her housing accommodation was denied three times, all due to lack of information—despite submitting this information previously. 
"It got to the point where I'd call my doctor's office to ask them to provide more information and they started to get annoyed by the number of times I had to ask," Byrd said. 
Pono also described the process as "incredibly frustrating." She said, "it feels like the school doesn't care. I feel like they offer it because they have to, but they do everything in their power to not go through with it. It makes it feel like they don't trust students." 
"And for them to be like, your diagnosis is not enough information. It's kind of like, then what is? Do you want my doctor to call you and like tell you how poorly I do on my mental health every day?" Pono said. "What else can I do?" 
View Comments (3)