Burlington Citizens Rally to Protest Sears Lane Eviction Order
Mayor Weinberger ordered a dispersal of one of Burlington's most organized houseless camps; Burlington citizens fight back.
On Sep 15, Burlington Mayor Miro Weinberger announced a plan to assist the houseless encampment at Sears Lane. Less than a month later on Oct 14, Weinberger went back on that plan and announced that all Sears Lane residents had to be off the land within five days. The community responded with a protest against the eviction order. 
Initially, the city government's plan, which they released a draft of in September, involved helping Sears Lane residents have a slightly more structured community. In addition, WCAX reported, "According to the document, [Burlington city government is] looking for help managing the encampment and making it larger to accommodate a growing number of people looking for safe, unsheltered sleeping arrangements."
However, on Oct 13, the Burlington Police Department (BPD) responded to two incidents in the camp, one of which was an accusation of drug possession, and one of which was, according to the city government's official statement, when "a camper pointed an assault-style airsoft gun (a replica pellet gun) at Burlington Fire personnel." 
On Oct 14, in response to the previous day's incidents, Weinberger made a public statement: "It is clear that the encampment at Sears Lane has become untenable and unacceptable." The BPD then issued the order for all Sears Lane residents to leave the land within five days.
However, there was dissent even within the city government about the decision. Joe Magee, a city council member, stated, "It is unrealistic to think that disbanding the encampment without other housing resources in place will lead to greater public safety."
Burlington citizens, houseless and not, gathered on Church Street outside the City Hall three days later to protest the order. Around 75 people showed up for the community-organized event, which was advertised unofficially through local social media activism pages such as bvtcopwatch. About ten people spoke to the crowd, three of whom were former or current Sears Lane residents.
Among the speakers, all of whom will be identified by first name only for their safety, a common thread was how Weinberger announced an eviction specifically after he promised to help Sears Lane residents build a safer community just last month.
"The sudden reversal of tactics is cruel, especially because all of Burlington's shelters are consistently completely full. Like, as of yesterday, a houseless friend told me: they qualified for emergency housing? Couldn't get it," said Julie, one Burlington community organizer who frequently works with the city's houseless population. 
She continued, "So I don't know where they think people are going to go, especially in the winter. It's just unacceptable."
One of the protest's organizers, who will remain unnamed, agreed, saying, "The city taking [the Sears Lane land] back abruptly right before winter is inhumane. It is an act of state-sanctioned violence against the most vulnerable members of our community."
Another common thread discussed by protest speakers was how hypocritical they believed the conditions Weinberger cited to excuse the eviction were. 
"Let me ask you a question," posed Stephen, a former Sears Lane resident and current advocate for the houseless people of Burlington. "When somebody shows up on Church Street with a gun, do they shut down Church Street [businesses]? No they do not. When there's a drug dealer on Church Street do they shut down Church Street?"
He waited for the crowd's response, a resounding 'no,' before continuing, "So what […] are they doing in Sears Lane? [Sears Lane residents are] real people who lead real lives and they're just trying to survive. And where else are they going to go?"
Vermont's gun laws are notably lax. Possession of a firearm, along with both open and concealed carry are legal and permitted without a license. In addition, airsoft rifles, such as the one the BPD and Weinberger cite as a reason for evicting Sears Lane residents, are not even legally considered firearms and are legal for anyone to own under federal law. 
"This is Vermont, it's not illegal to own a gun. Everybody has guns," said the above quoted organizer of the protest. They also confronted the accusation of drug possession: "If the BPD and the Feds conducted a similar raid on literally any sorority or fraternity, how much coke would show up? How much adderall? [Burlington city officials] are targeting people because they are vulnerable, not because of what they did."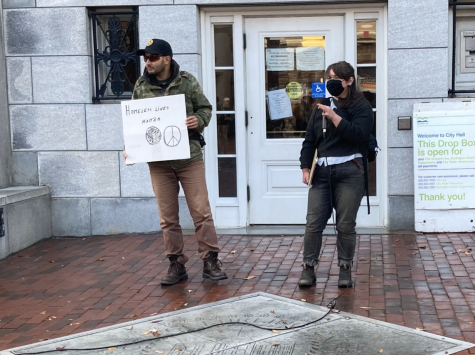 Most of the speakers urged the crowd to attend the city council meeting that took place yesterday, Oct 18, and inform council members that citizens did not support the eviction. 
Sears Lane residents and their supporters also sought legal help from the ACLU. Jay Diaz, a Vermont ACLU member, was in communication with Stephen on next steps for Sears Lane residents. The plan, as Stephen announced at the protest, was to file a stay of eviction. He and the houseless community members he advocates for hope to seek legal protection that way as soon as possible. 
However, just yesterday, in response to Burlington residents' outrage at the eviction order, Weinberger announced that he has, "Extended the deadline for campers to comply with [the eviction] notice until October 26."
In addition, "The City will store the belongings of campers for up to 30 days by bringing storage containers to the site. These containers will be on-site no later than October 25."
While this does give Sears Lane residents more than just the previously announced five days to figure out new living situations, it does not solve the problem, and will still result in 25-30 Burlington residents without shelter right as temperatures begin to drop towards freezing. 
Stephen believes that a long term solution wouldn't be too difficult to find. He said at the protest, "If the city of Burlington tries a little harder and thinks a little more creatively, I think we could create conditions for a sustainable and well-run community, with self-governance and some framing of support from the city."
It is yet to be seen what will happen on the day of the eviction, but the strength and direction of community efforts seen at the protest suggests not only that Sears Lane residents have the support of much of the wider Burlington community, but also that they will not lose their homes without an attempt at legal resistance.
Leave a Comment