Police Brutality, Social Responsibility, and The Hate U Give in 2021
Returning to one of the most topical YA novels of the 21st century in the wake of Chauvin's conviction.
In Feb. 2017, Angie Thomas published her debut novel, The Hate U Give. Now, just over four years later, it's more relevant than ever. 
When The Hate U Give first hit shelves, it was an instant success. It stayed on the New York Times YA Best Seller list for over 80 weeks, and held the number one spot for a large percentage of those; it won two Goodreads Choice Awards the year it was released; and it made the longlist for the National Book Awards.
The story follows a high school sophomore, Starr, as she's faced with the daunting responsibility of trying to seek justice for her childhood friend Khalil after she was the sole witness of his unlawful death at the hands of a white police officer. Starr has to weigh speaking out on Khalil's behalf against the safety of her family, and of her father's small local business. She also struggles to reconcile her identity as a Black girl with her place in a mostly-white private school, all while the trial of Khalil's killer progresses. 
The prose isn't complex, and neither are the characters, but that doesn't detract from how real they are. Thomas masterfully brings together a brutal topic, a heavy emotional journey, and realistic, well-characterized dialogue in a way that is accessible for a YA audience but is in no way diluted or cheapened. And, while it is written with that YA audience in mind, it holds up as a powerful and topical read for older audiences too. As reviewer Shannon Ozirny writes for the Globe and Mail, "Ignore the YA label – this should be the one book everyone reads this year."
Though Ozirny's review was written in 2017 shortly after the book was published, it should be heeded now. The messages of resilience, the pursuit of justice, and the striving for change that Thomas wove through The Hate U Give should be ingrained into every young reader, every young person. The need for that effort has only grown since the novel was published. 
Columbus, Ohio police officer Derek Chauvin murdered George Floyd, an unarmed Black man, in May, 2020. In April 2021, Chauvin was finally convicted for that murder and could face decades in prison. He is due to be sentenced in June. The fact that he was convicted at all is a victory; the likeliness of that happening after a murder by a police officer is incredibly slim. 
However, the problem has only grown between when Chauvin committed the murder and when he was convicted. In that period, less than a year, at least 1,050 people lost their lives in police encounters in the United States. Since 2021 began, officers have taken the lives of 292 people. We're only 124 days into the year. 
And, while Chauvin was convicted, he was the murderer of only one of the 1,127 U.S. residents who were killed by law enforcement in 2020. Of those 1,127 killings, David Brennan of Newsweek reports, "only 16 cases—1.4 percent—resulted in a charge against the offending officer." It is a dismal, unacceptable statistic, but in future years, it has the potential to change.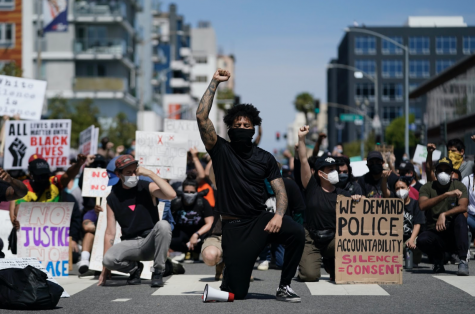 Many people are attributing Chauvin's conviction — and the fact that he was ever even put on trial — solely to the way people protested his death and countless other deaths that were the result of police brutality. All through the summer of 2020 and continuing on, hundreds of thousands of people across the country marched to show their refusal to condone unlawful murder by law enforcement officers. 
Keith Ellison, the attorney general whose office oversaw Chauvin's prosecution, said in a news conference after the conviction, "[Citizens who responded to Floyd's murder] stopped and they raised their voices because they knew what they were seeing was wrong. They didn't need to be medical or use-of-force experts. They knew it was wrong, and they were right."
The conviction has proved the importance of social and moral responsibility: being aware of current events and protesting in as many ways as you can when you see injustice being perpetuated. It also means educating young people, and keeping them aware too. 
This is where The Hate U Give and other YA novels tackling subjects like police brutality come back into play. While reading fiction seems like a small step, it's an effective way to turn a young audience's eyes to important social issues.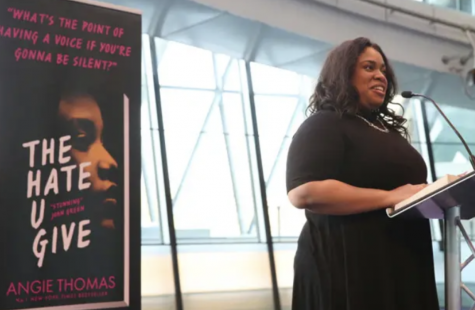 Thomas knows this, and writes her novels as highly readable pieces for that reason. She spoke to that aspect of her work in an interview with the Guardian, saying, "It's recognising the power literature has for shaping leaders, and making sure all kids have books that reflect themselves. So, I'm fine with being called an activist. Though I wonder if I'm doing enough."
The Hate U Give has been banned and challenged across the country since it came out, one notable instance being when a South Carolina police union sent a letter of complaint to a local high school after it was included on one of their reading lists for students. This, more than anything, proves that what Thomas is doing is indeed a form of activism, and a very effective one at that. 
And while The Hate U Give is, at the end of the day, just a book, it's a book we should all be reading and re-reading, passing down to younger friends, siblings, and cousins, and nominating for reading lists. Education is the first step towards fighting for justice, and the beginnings of that education can be something as simple as a novel. 
Leave a Comment