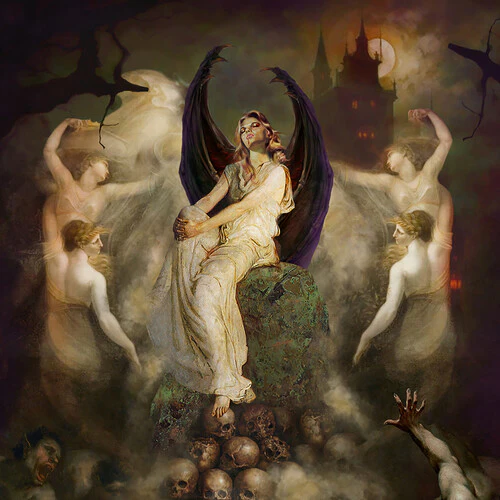 Horror punk is a funny name for a genre, and yet it's been prevalent since the late 1970s. Big band (the) Misfits employ horror-punk in their stage presence and iconography. From their logo; a b-movie creation called "The Crimson Ghost," and the way guitarist Doyle looks, with his "devil-lock" and makeup resembling the monster from Frankenstein, and him having the word "Wolfgang von Frankenstein" in his stage name. The writing style features very macabre and disturbing lyrics. The genre's campy and joking nature is as prevalent as the term "bleh bleh bleh" being a part of vampire imitations by children. Recently, the band, Creeper, has used the term horror-punk to unify themselves under an umbrella of visual aesthetics and melody, unlike their harsher contemporaries. Creeper has spent their nine-year career using horror-inspired lyrics and visuals combined with classically trained musicians to craft a sound unlike any other. Their albums all contain stories, and they follow eras like David Bowie. This sound is on full display in their most recent effort, Sanguivore.
Sanguivore continues Creeper's penchant for the theatrical and mysterious, with a story as creative as it is campy. This is shown on the release date, Friday the 13th of October. For this album, the band went away from the apocalypse and doom themes on their second album, 2020's Sex, Death & the Infinite Void; and focused on vampires, as shown in the cover art and videos for tracks "Cry To Heaven," and "Teenage Sacrifice." They also focused on friendship and reunification, swapping out suits and serious color coordination for leather, chains, and back-patches – something they haven't done since their first album.
This time around, the album's story follows centuries-old vampire, Mercy, and elderly, mind-controlled, Spook. We follow them through songs that sound like something out of a stage play, love letters to classic rock bands like Judas Priest, and pompousness akin to producer Jim Steinman, a constant inspiration to frontman Will Gould (dubbed William von Ghould for this album) and lead guitarist and co-writer Ian Miles.
Opening on the 9-minute, three-act epic that is "Further Than Forever," we're instantly thrown into a pit that we won't climb out of for another 40 minutes. The band follows the structure of a musical with the intro's soft piano building into choral flourishes and Gould's vocal melody making puns about vampires sound like biblical preachings. This transitions into the 80s love letter "Cry To Heaven." Guitars and synths drive the lead single, as Gould sings like he's in a gothic rock band akin to The Cure or Sisters of Mercy.
The rest of the album continues this love of vampire puns and self-aware humor in songs like "The Ballad of Spook & Mercy" and "Teenage Sacrifice." They also carry a certain sound with the three singles, "Cry To Heaven," "Teenage Sacrifice," and "Black Heaven." All feel like quintessential 80s songs. "Black Heaven" in particular feels like a neo-Sisters of Mercy track, in the synth-driven darkwave sound and lyrics. This is all finished with a tear-jerker of a track. "More Than Death" sees love being the savior of all, and cements itself as the autumn 2023 love song. Lines such as "Does anyone ever love you more than death?" and "With any heart that I have left, I will love you more than death" both show the emotionally vulnerable side that Gould often brandishes like a shield both in this band and his side project, titled SALEM.
However, this brilliance is dulled like dirty fangs by the sound the band employs. In interviews leading up to the release, the band boasted their new sound, describing it as something calling back to the 1980s. However, This sound seems to have been lost in the production. The album's instrumentation patterns feel the same as the previous album Sex, Death & The Infinite Void. It sounds like the band almost got too scared to venture fully into the cheesy nature of that lead single, which offered a new look, feel, and identity for the horror-punk refreshers. This causes the album's sound to almost blend in with the ideas of the second album. This isn't a bad thing but can make one wonder why they didn't just listen to Sex, Death & The Infinite Void.
One should listen to Sanguivore if they're looking for an album that synthesizes the feeling of 1980s vampires into a digestible experience with great lyrics, cheesy jokes, and a story that is worth delving into. This album doesn't require multiple listens to wrap your head around, as it's just meant to let you live a little and find yourself in a post-lockdown world; especially the ones who love the macabre and mysterious creatures of the night. As a follow-up to their last album, Sanguivore delivers on the lyrics, story, and aesthetic, but fails in the differing sound. For that, the album gets an 8.5/10. 'Sanguivore' is out now on Spinefarm Records on CD, vinyl, and streaming.