Champlain Students Question the College's COVID-19 Transparency
Survey shows that almost half of Champlain College students doubt the honesty of the school's test result reporting despite efforts from administration and the health center.
Champlain College has sent over a dozen emails regarding COVID-19 on campus, actively updates an online test result dashboard, and has encouraged students to ask any questions they have about their pandemic learning concerns, yet over a third of a test group said that they either don't trust or are unsure if they can trust that the college is being as transparent as they say.
Annika HawkinsHilke, Coordinator of Student Health and Wellness, promises that Champlain is staying as transparent as they possibly can be and that the testing dashboard "gets published as soon as we have all the results in."
A survey anonymously asked 54 students of all ages if they trusted the data that Champlain reported about test results in their community. The students could choose yes, no, or write in their own response. There was also a space provided for them to rationalize their answer. The results show that 51.9% of students believe Champlain's data, 37% do not, and 11.1% are unsure or do not feel confident enough to respond either way.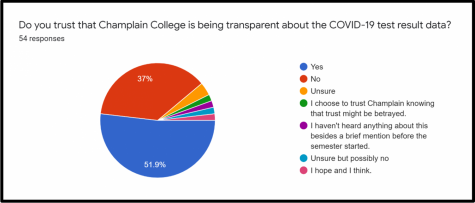 Survey Results from September 26, 2020
Overall, most students trust Champlain. 


A fraction of students have less confidence in Champlain's concern for community safety than they do for Champlain's concern for legalities.


Other students go as far as to say that Champlain's motivation for sticking to the truth is out of fear of being sued. One particularly passionate response argues that there's no reason for the school to lie, as "they're already stealing all our f**king money."
A similar argument concerning money appears in the doubtful students' statements as well. In fact, most of the replies from students who reported not believing that Champlain is being transparent claimed that money was the reason behind it.






The quality of the results themselves, not the reporting of the results, was another worry that emerged in several responses. One student noted that their test was lost and never processed. Another expressed concern that tests that were coming back inconclusive were not accounted for on the dashboard.
It is also important to note that many of the responses indicated that the responder was unaware of information that the college has made available either online or via email. Some did not know the existence of the dashboard. One response read, "They already emailed about the first case of COVID, so I would assume they would email us about the rest!" but the email in reference from President Benjamin Ola. Akande stated, "We update our testing dashboard on a daily basis and while we will not send updates in the event of additional positive tests, should there be any cause for a change to our campus operations we would update you via email."
HawkinsHilke explained that the dashboard is updated as soon as all of the results from one day of testing, or a "batch," have been reported back to Champlain. The batch is transported to Boston along with samples from UVM, St. Michael's College, The University of Vermont Medical Center, and Vermont Health Department. The samples arrive at Broad Institute, a third-party lab facility, at 4:30am. "The lab we send them to is committed to getting results back within 24 hours," said HawkinsHilke. "That's 24 hours from the time the labs arrive in Boston. So, it's about 36 hours generally from day of collection to results."
When a batch is complete, the online dashboard is updated by a data informatic specialist. This updating takes place once a day, a decision that HawkinsHilke said the college made by observing "the state and their experience with summer trying to publish data in a transparent way." 
"Sometimes we have results for a bunch of hours," said HawkinsHilke, "but we wait to get them all in so we're not updating multiple times a day [in which case] they'll think 'Oh, you're not being transparent because you held some results back earlier.'" Above the results on the dashboard page is the text "Data updated daily."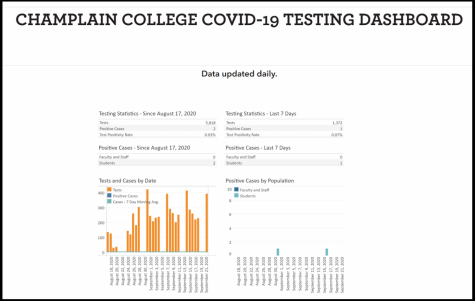 "I would say in general that we really really want the data to be as transparent and accessible as possible so we're certainly encouraging people if [they] have questions to ask them," said HawkinsHilke. "Please don't assume that we're withholding anything because it's actually that we're trying to communicate it more clearly."
President Benjamin Ola. Akande made the following statement in an email that was sent to students, faculty, and staff. "We will continue to respond to challenges presented by COVID-19 with transparency and timeliness and remain committed to sharing relevant data for the health of the community."
Leave a Comment