ChatGPT's Influence in College Settings
On Feb. 16, 2023, an email was sent to the students of Vanderbilt University regarding the recent mass shooting at Michigan State University. In the email, the Peabody Equity, Diversity, and Inclusion office said, "We must continue to engage in conversations about how we can do better, learn from our mistakes, and work together to build a stronger, more inclusive community." However, the email concluded with a parenthesized addition that read "Paraphrase from OpenAI's ChatGPT AI language model, personal communication, February 15, 2023."
ChatGPT (Chat Generative Pre-trained Transformer) is a chatbot developed by OpenAI and launched in Nov. 2022, gaining attention for its detailed, articulate answers and versatility. It can compose music, teleplays, and fairy tales; write computer programs; and mimic writing styles.
Many students from Vanderbilt and Michigan were appalled by the use of AI, one student reporting to the Vanderbilt Hustler that the email was "disgusting," and another calling it a "sick and twisted irony."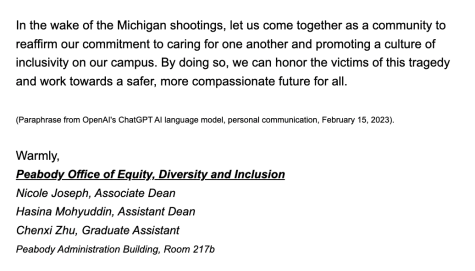 How Students are Using ChatGPT
Champlain College has made a reputation for itself as the "Most Innovative School" for several years in a row, often using and teaching the most updated technology. This includes AI software. Recently, there were advertisements around the campus for ChatGPT to help "write more professional emails" and format essays.
Ben Roberts ('23), a Computer Science & Innovation student, uses ChatGPT in multiple aspects of his education. In creating a script for the news broadcast, "Champ Chat," he used it to format his writing and then backtracked to make it more personal and Champlain-oriented. He added that it doesn't have the data to personalize its responses.
Roberts also uses the program every day while working on his Capstone Project. For example, he asks ChatGPT how he might accomplish a coding task. It will then respond with the right format, but the wrong implementation, similar to Stack Overflow, the question/answer website used mostly by programmers. He can then adapt it to meet his own needs, or ask it to rephrase it until it's usable. He has used ChatGPT to learn the program and user interface that he is using for his Capstone, both of which he had little knowledge of and is now an expert in. He credits this to the fact that the AI has the time and patience for him to learn the program.
"It's been really good because I've been able to ask it no stupid questions," Roberts said.
However, ChatGPT is a tool for writing and formatting and Roberts says it should not be used as a search engine because its goal is not to relay the truth.
"It's made to do two things. First is to complete a sentence, whether it be a gap or complete or finish what you've started. The second is to make stories. So that's why it's often constantly wrong." 
According to Susan Waryck, dean of students at Champlain College, students need to understand what ChatGPT is, how it's created, and the ethical realities of using it for different reasons, as well as where it pulls its information from, especially if it's going to be implemented in their education.
"We can't just close the door and expect that it will go away. It's a part of the future and so it definitely has a place in our education," she said.
Where does ChatGPT belong in communication?
When sending out sensitive community announcements, Waryck works with Champlain's Office of Student Affairs, Diversity, and Inclusion (SADI) to be transparent and to allow people to know confirmed information as soon as possible, while respecting the people and information involved in the situation. Champlain does not have a specific staff that writes these communications, rather many people will work and weigh in on the message, such as staff from the SADI office, the vice president of Student Affairs, and Waryck. 
Waryck said that Champlain has never used ChatGPT for that type of correspondence, but she understands why the Peabody office would be inclined to use it to write the email. 
"If people are using it as a place to start a very difficult communication or very difficult conversation, I don't think that's a terrible thing," she said.
Roberts said that the issue with Peabody using AI is that it lacks a personal touch.
"You're not trying to create a product, you're trying to give comfort to people," he said.
As ChatGPT and AI writing grow in popularity, students and faculty will need to prepare to explore the education landscape alongside it, and what that means ethically.
Leave a Comment