Mixed Feelings Following Community Dialogue & Listening Session
Students, faculty, staff, and members of the administration filed into the Champlain Room on Tuesday, November 5, just before 4:00 pm. The atmosphere in the room was tense and heavy from a long week of bias reports, campus-wide emails, and limited response from the administration.
Last week on Halloween, the Champlain Republican Club tabled outside the IDX for their "Change My Mind" event. The topic for this discussion (and what was advertised in IDX) was "There are only 2 genders. Change my mind." Days before that on October 22, another faculty member used the n-word for "educational purposes" in the classroom. 
The Champlain community was invited to the Community Dialogue & Listening Session via email to engage with each other and to talk about issues that we care about. It was mediated by Julian Portilla, an associate professor in the Division of Education and Human Services. Two microphones were set up on either side of the room for students to go up and voice their opinions, questions, or concerns.
Interim President Dr. Laurie Quinn addressed the crowd directly about the two bias incidents within the last week, encouraging students that, "Change is happening, but frankly lasting change of this kind does not happen fast; for some of us it does not happen fast enough. And meanwhile, the impact is real and it is cumulative."
Dozens of students approached the microphones to address their fellow students, faculty and staff, and the administration that was in attendance. The event went nearly two hours longer than intended so every student's voice could be heard.  For many of them, their concerns were for their own safety and wellbeing, and for the safety and wellbeing of other students. 
"I don't want to shut them [Champlain Republican Club] down," Alex Herter, fourth-year Professional Writing major said after sharing their personal journey with their own gender identity. "I just want them to change the words."
"My concern was that groups of students, nonbinary and trans, people who are questioning their identities at that point in their life…it's most of our lives… exposure to this rhetoric is problematic…" said another student on behalf of their friends not in attendance at the event.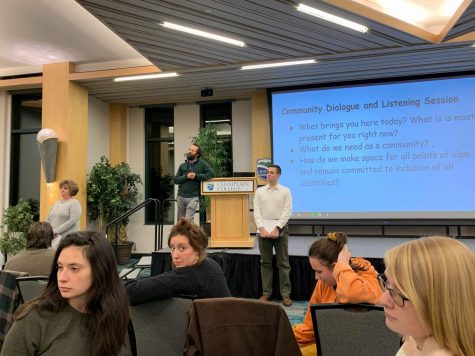 Third-year Psychology and Secondary Education major, Jayy Covert, approached the microphone wrapped in a non-binary flag. "Everything that this campus does is a bandaid on a wound that never stops bleeding."
Where the line is drawn regarding freedom of speech has become a major point of contention for the Champlain community. In official statements from the administration and SGA, they recognize the importance of open discussion and dialogue on campus. There have been calls across campus for the Champlain Republican Club to be shut down, a point that Noah Siddall found problematic. 
"To say to 'shut them down' or 'they need to go' is shutting down the conversation," the fourth-year Computer and Digital Forensics major said, referring to the Champlain Republican Club. He received some pressure from students regarding his position, and his concern for freedom of speech on campus. In one instance, Noah was questioned by a student regarding his definition of vulnerability and a second student stated there's a "difference between disagreements and erasure."
After the event, Siddall made an additional statement: "I think today I am a mouthpiece for the Republican Club and a vessel to bring ideas from the greater campus community back to the Republican Club itself. Being affiliated with the Republican Club and talking to its members, I do see that the members do want to have a conversation, and I believe that the rhetoric that came across in the tabling event does not reflect that." 
The Crossover team reached out to the Champlain Republican Club on two different occasions for comment. They refused to comment on both instances but issued a statement via email to the student body on Thursday.
"We want to clarify that it is not, nor has it ever been, the intent of the Champlain Republican Club to incite violence or hatred towards any members of the Champlain College Community," the statement said, "nor has it ever been our intention to instigate conflict within the community."
Including the email, the Champlain Republican Club has not issued a formal apology to students impacted by their rhetoric. 
By the end, students felt nothing was truly resolved. The administration said little in response to students but was actively listening and writing down notes and comments from students. 
"I don't want to see the [Republican] Club disbanded, but I need to see the clubs be more regulated," L, third-year Social Work major said after the event. "I need the [IDX Student Life Center] atrium more regulated so I feel safe going in there."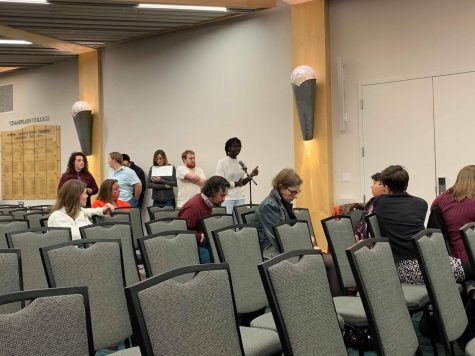 L joins several students who made calls for there to be more regulation on tabling in the IDX atrium. Currently, there is no policy or oversight for any tabling materials from clubs or visiting organizations. Anyone can request to table in the atrium using the Event Management System.
Dr. Cheryl Casey, associate professor of Communication and Creative Media, left feeling sad, discouraged, and frustrated.
"On the faculty and staff side, the people who need to hear the student's anger are not actually here. Those of us who are here are already committed to supporting and hearing the student experience and are also the ones just waiting for the diversity training to be unveiled. We're ready to go. We're ready to learn. We're ready to do better." 
At this time, the Champlain Republican Club plans on taking the rest of the semester to regroup and restructure. They have canceled the Change My Mind event scheduled for this month. SGA verified the cancellation, and reassured students that "an event or tabling event with this premise will not be repeated by the Republican Club, or any SGA Recognized Club, moving forward."
Leave a Comment