Dancing Down the Aisle
Who says love isn't in the air at Champlain College?
Anyone who goes to Champlain College's Monday and Friday night Zumba classes knows that the two fun-loving instructors have chemistry. Their dance moves play off one another, like a tennis match, and their joy is nothing but infectious. However, it wasn't until October 27 that they graduated from being dance partners to being life partners. That's what happened to recently married couple Jennifer Niles-Pinillos and Christian Pinillos, beloved Zumba instructors at Champlain College.
Jennifer, a kindergarten teacher at Shelburne Community School, grew up very close to Burlington—in Plattsburgh, in fact! Christian is a practice supervisor for an orthopedic clinic at the University of Vermont Medical Center. He came all the way from Lima, Peru, and moved to Vermont seventeen years ago when he graduated from college. They met here in Burlington, and their love blossomed while dancing their hearts out in Champlain's Zumba class.
Jennifer taught at the EDGE fitness club in South Burlington before coming to Champlain College. EDGE has been running the Zumba classes at Champlain, and the staff was looking for someone new to replace Champlain's previous instructor.
"They asked if I could do it," she said, "and I taught two nights a week. Then, Christian came on board."
Christian got into Zumba because he saw Jennifer walking up the stairs to a Zumba class at the EDGE.
"I saw her going up the stairs and I followed her and I went to her class. The first class I took was her class," he said. "I remember exactly what she was wearing. Her gym bag, which was just this pink sparkly bag that I believe I just followed because it's shiny and I tend to follow shiny things." He didn't know that she was the instructor until she went to the front of the room, turned the music on, introduced herself, and started the class.
"I was just captivated by how wonderful the music was and the feeling in the room, how she made everybody feel, and then we became friends, and then eventually, we started dating."
Jennifer specifically remembers Christian coming to class because not a lot of men come to Zumba classes, "so it was noticeable when Christian was in the class."
That was January 5, 2016.
After that, he started going to her classes week after week and they started going to other classes together. Eventually, they started to teach together at Champlain.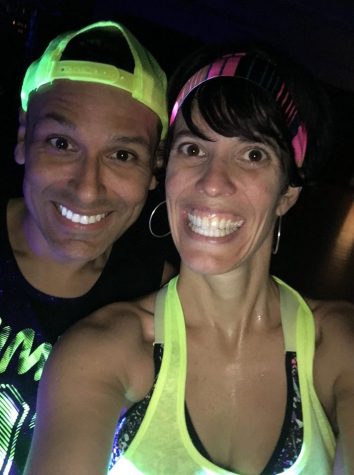 Jennifer has been teaching Zumba at Champlain for five years, while Christian has been teaching for two and a half. Based on their loud, rowdy, and quite in-your-face classes, they seem to be having a great time.
"We love it, we love it. That's why we do it," said Christian. "A lot of people will be doing this on a Friday night at seven o'clock, and we enjoy the community we've built here that goes beyond the class."
"Community" is certainly the right word. The same people go to class week after week, year after year, almost like it's a school club instead of a fitness class. Occasionally, Jennifer and Christian will take the class to El Gato Cantina for dinner after a Friday class. It's not hard to see how the students are just as dedicated as their instructors. Both Christian and Jennifer say that it really is the students that make the class special. "We just have fun," said Jennifer. "We love dancing with [the students]. We love music. [They] make it fun. That's part of Zumba. Without the students there, it's just you dancing in the mirror, so we need the students. [They] make it what it is. It's fun […] Zumba is for everyone."
Jennifer got into Zumba ten years ago because of a friend's suggestion.
"I went just for fun," she said. "[My friend] said she had gone and that it was a fun workout. So, I decided to go and then I never stopped going." The fact that she kept going grew into teaching Zumba classes, which grew into meeting Christian, which grew into what they have today.
After Christian was captured by the pull of Zumba and went to Jennifer's classes week after week, the two ended up becoming closer and closer, working out and hanging out together. "We just became really good friends," said Jennifer.
They were best friends, then they eventually decided to become more than that. Their first "official-unofficial" date was Champlain's 2017 Snow Ball. Students in the Zumba class asked them to go and they went along with it. Christian even picked Jennifer up to bring her to the dance.
They actually officially started dating before that in early 2017 during Winter Break, before the Snowball. Since then, they've discovered that they like to do pretty much anything together (including Zumba, of course).
"Everything together," said Christian. "We work out, go out for dinner, go out with our friends […] We love our families. We love to spend time and do a lot of things with our families. We love to go to the grocery store, have a laugh. We just like to be together."
On December 1, 2017, Christian popped the question in Jennifer's condo.
"There weren't many bells and whistles about it. It was more like, 'Here's a ring! Take it! I hope you love it!'" said Christian.
"With the washing machine and the dryer going in the background," Jennifer added in. "It was special."
The wedding was on October 27 at the University of Vermont Alumni House, right up the street from Champlain College. Surrounded by just over one hundred friends and family members, they had a simple ceremony and, in true Zumba fashion, a large party.
"Lots of Zumba for a good five hours," boasted Jennifer.
On October 15, less than two weeks before their wedding, Jennifer and Christian got a huge pre-wedding surprise when they came into class: a big bouquet of blue, silver and green balloons and the phrase "12 Days Until The Wedding!" written in fancy blue and green script on the whiteboard. Students were just as excited about the wedding as the happy couple was.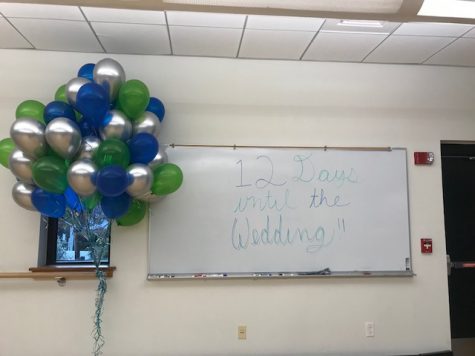 "I suspected that they were together when I first started Zumba because of their intense connection," said Zumba regular Holly Francis. "It was really lively and really fun to watch, and then they said they were getting married and Whitney [Bain] and I looked at each other and we were like 'Yes! We knew it!'"
Nothing can capture the joy that these two share better than the happiness and energy of Zumba. Their smiles are contagious, which any class regular can confirm. If you're a sucker for a quirky love story and want to do something fun on a Monday or Friday night (5:45 p.m. and 7 p.m. respectively), come to Zumba as you are and leave with a smile on your face.
View Comments (1)