Depeche Mode Uses New Album as Mode to Deal with Grief
Death impacts us all. As a writer, I've been influenced to create because of death in the past. Others have made their magnum opuses out of their pain and grief. Examples of this would be songs or entire albums about death, such as "The Black Parade" by My Chemical Romance or "My Hero" by Foo Fighters.
For about 40 years, Depeche Mode was composed of three people: singer Dave Gahan, guitarist and primary songwriter Martin Gore, and keyboardist Andrew Fletcher. The albums released during this time shaped how rock, English, and dance music would sound and feel. The band made an impact in genres like grunge, industrial, and electronic, including albums like "Violator," "Songs of Faith and Devotion," and "Ultra." However, this trio would become a duo when Fletcher died unexpectedly in 2022, just months before production began on the band's 15th studio album, "Memento Mori."
First teased back in Aug. 2022, the band used images of clocks and time to roll out the singles and the tour. This all fits the album's theme of time, such as in the title itself. "Memento Mori" is a Latin phrase which translates to "remember that you have to die." This theme was further explored in the album's first single, "Ghosts Again." 
The rest of the album, however, doesn't seem to carry this motif. The songs focus on themes related to death, but branch out. They speak on love, drug abuse and addiction, abusive relationships. All standards for Martin Gore's writing style. Standouts like the singles "Ghosts Again" and "My Cosmos Is Mine," and the tracks "Soul With Me" and "Caroline's Monkey" have their inspirations on their sleeves.
"My Cosmos Is Mine" opens up the album on an ethereal start, and has an almost-heavenly styled bridge. The lyrics are like a call from heaven, where there is "No war… No fear… No rain, no clouds, no pain, no shrouds / No final breaths, no senseless deaths." This may feel eerie to open the album on, but it fits with the band's long history of being topical with modern talking points.
"Ghosts Again" was how people first heard this new era of the band. The song and video pair perfectly with the modern subject matter. The band took the idea of death and made a song which anyone can relate to, despite the loss they've suffered. The nihilism in the line "we'll be ghosts again" can connect with anyone who has gone down a dark path mentally and had an existential crisis about life and our place in the universe following loss.
"Soul With Me" was described by Gore, in the magazine UNCUT's May edition, as "obviously about death," but also being "very tongue in cheek." The song carries this idea of a soul being taken with the departed and comes as a goodbye from the departed to those still alive. The song also sounds very melodic and heavenly, taking on an almost Tame Impala sound in how Martin Gore sings the track. Gore singing is an occasional choice for their albums. The ending also references this melancholy feeling, with a very funeral-esque choral arrangement.
"Caroline's Monkey" comes off as the most drastic, thought-out track. Lyrics deal with a possibly metaphorical terroriser in the form of the monkey and a victim in Caroline. This could be another metaphor for Dave Gahan's previous drug addiction. Lyrics like "Caroline feels the ice in her veins" referencing a possible heroin problem, alongside the entire fourth verse feeling very detailed in its description.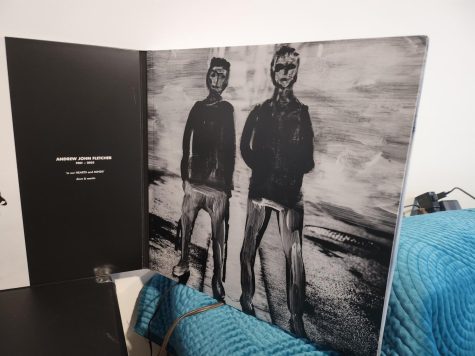 The concepts explored throughout the album are prevalent from the moment the buyer lays their eyes upon the packaging of the physical versions. The vinyl has images of Gahan and Gore sitting at a table with a skull in the middle, alongside an image of Gahan and Gore on a rooftop holding an infinity sign up to the sky. This is all centered around the phrase "Andrew John Fletcher 1961 – 2022 'in our HEARTS and MINDS' dave & martin" which is another way of the band's whole tribute to Fletcher.
This is an album about death, and it perfectly shows how they were impacted during this time in their life. The tracklist is a time capsule of the immediate aftermath of a close friend dying, a time where you try to show grief, before trying to forget, which causes the emotions to flood back. As a comeback album after six years, the band has outdone themselves. This is especially true after Depeche Mode's 2013 album "Delta Machine" and 2017 album "Spirit" were described as "cheap" and "unoriginal" by fans. The duo hasn't seemed to have lost the energy and appeal they held in the 90s, but rather expanded it with this newest effort.
This album already feels like a contender for a Grammy in 2024. It stands easily as the best electronic release to come and has proved it with its critical and commercial acclaim. Fans and critics have heralded the album as a return to form for the most part. Most complaints go to one or two tracks feeling like they weren't given enough love. This song for me is "Never Let Me Go."
Memento Mori is out now on all streaming platforms and physical formats. Depeche Mode are currently beginning the Memento Mori World Tour, which is set to go from Mar. 25 in Sacramento, CA until Dec. 17 in Los Angeles, CA. The band has used a part of this tour, during the song "World In My Eyes," to pay tribute to Fletcher using the giant screens behind them.
View Comments(1)