McDonald Hall: Renovated with Focus on Sustainability and Historic Preservation
Any student walking on Champlain's campus has inevitably passed the ornate building on the corner of Willard and Maple. However, for the last eight months, the building has been trapped behind construction fences tacked with "KEEP OUT" signs. 
McDonald Hall is considered a "landmark building," according to Nic Anderson, Senior Director of Planning and Operations, because of its grandeur and location. This iconic reputation is why McDonald Hall was the first of the 21 restored Victorian mansions to get a facelift. The goal was to improve energy efficiency, historic preservation, and accessibility. 
The building is now 100 percent fossil-fuel free, instead employing the geothermal heating system that uses underground water at a set temperature to pump water throughout to heat and, for the first time since it was built 126 years ago, cool the building as well. According to Champlain's own The View, "The HVAC system uses energy recovery ventilation to improve air quality and circulation, maintain humidity levels, and recycle heat that would otherwise be lost." The windows were also updated to improve insolation.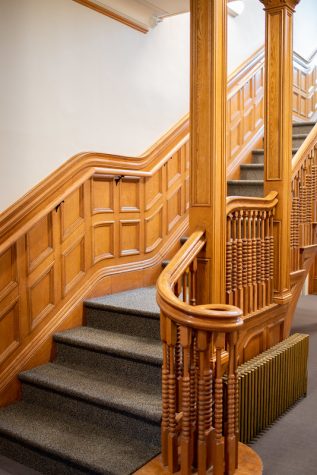 The updates did not detract from the building's history, as the renovation opened up new features that had previously been hidden away like pocket doors, wood paneling, fireplaces, and porches. The construction team also rebuilt the main stairway, keeping to the vintage aesthetic of the buildings.
McDonald Hall is now open as of the ribbon cutting on Jan. 11, housing 45 students, including a first floor that is accessible for those with mobility needs. With the finalization of McDonald Hall, Champlain is moving on to renovating 371 Main St., with the hopes of updating every Victorian mansion every two years over the next 50 years.
Leave a Comment