Glass Onion: The Perfect Sequel
When the term "neo-noir" is mentioned, Knives Out is what pops into my mind. Switch out the dark offices for a massive mansion, switch out the main character being a brooding P.I. for the most comical detective that you're supposed to take seriously, and you've got the perfect mix for a masterpiece of mystery. The cast, star-studded and perfectly chosen, played off each other well and made the entire mystery seem realistic and unsolvable on a first viewing, unless you're a real-life Benoit Blanc.
The film was a smash hit with both critics and audiences, holding a 97 percent rating on Rotten Tomatoes, and grossed around $311.9 million against a modest $40 million budget. With this success, a sequel was soon put in the works, focusing on a new murder mystery with only Benoit Blanc returning for his second outing, 2022's Glass Onion: A Knives Out Mystery.
The film takes place around a year after the original movie, being one of the few movies this year to acknowledge that COVID-19 exists. The characters constantly refer to Zoom, and wear masks during large gatherings. This ever-present sense of reality helps bridge the gap of believability between a movie and real life. Another aspect that works is the set design, a giant house with a massive piece of spherical glass on the top, from which the name of glass onion comes, as it's a literal "glass onion." 
The story focuses on a group of friends, all of whom freeload from the rich Miles Bron. They're like leeches, from the scientist working at his company, to the formerly famous model using his money to help her dying career, and even a politician relying on him for her campaign. An untimely death turns the narrative in a deadly direction. Benoit Blanc, who is there purely by coincidence, begins to do what he does best and investigates.
The film also explores Blanc's emotions about being a detective. He's first introduced in a bathtub, wearing a fez and smoking a cigar, playing Among Us with virtual friends. Blanc initially refuses the case that results in him being with the rest of the main characters. It's also stated that the game Bron proposes "clashed" with him, showing that he feels like his abilities (and relevance) are slowly fading away. He is a worried man who feels his golden days are behind him, and Blanc uses this opportunity to once-again feel recognized for his intellect and ability to come off as the perfect detective.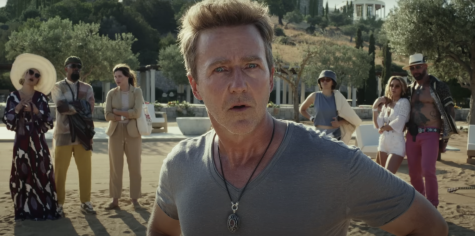 The film has an exceptional cast, featuring returning actor Daniel Craig as Benoit Blanc and new cast members such as Edward Norton, Dave Bautista, Kate Hudson, Kathryn Hahn, Leslie Odom Jr., and Janelle Monáe. The movie also features cameos from both Rian Johnson's previous collaborators and noted celebrities. This cast makes the film's tension work, as they are all worried and uneasy when Janelle Monáe's character shows up, and they become silent when Bron threatens to restrict his money if they cross him.
Like the first, this movie easily requires multiple viewings in order to fully appreciate the small nuances and puzzle pieces that fit even-more once you know the full context of the mystery. As a whodunnit, this one picks up and lifts the originals' uniqueness to a new height. And as a comedy, Glass Onion one-ups the original in terms of laughs This film definitely deserves any and all awards that it's getting and will continue to get with the Oscar season around the corner.
Leave a Comment