Musician Jack White Pushes for More Vinyl Production
Jack White III recently spoke out in support of the building of more pressing plants, specifically by three major record labels: Sony Records, Universal Records, and Warner Bros. Records.
In an open letter, alongside a video published to his record label's—Third Man Records—YouTube channel, White openly urged the three major labels to open their own record pressing plants to help curb the demand for vinyl, which currently far exceeds the supply. White filmed the video inside of his own record pressing plant, Third Man Pressing, which he built in 2017 using his own money.
Likening the turnaround period for vinyl making to that of a human pregnancy, White stated that the current system is "a killer of momentum, soul, artistic expression, and far too often, livelihoods." The COVID-19 pandemic has caused vinyl production to almost completely cease, leaving many bands unable to easily and quickly produce vinyl records and collectors grabbing for scraps of what little records their favorite artists can release.
Burlington itself has dealt with these supply chain issues, so prevalent that White named his 2022 tour in support of his albums after the whole ordeal, calling it "The Supply Chain Issues Tour." Michael Crandall is an employee at Pure Pop records, an iconic Burlington record shop located below street level just off the busy thoroughfare of Church Street. Pure Pop is a local music-lovers institution. Crandall thinks that while the sales have been impacted, it isn't currently anything to start sweating over.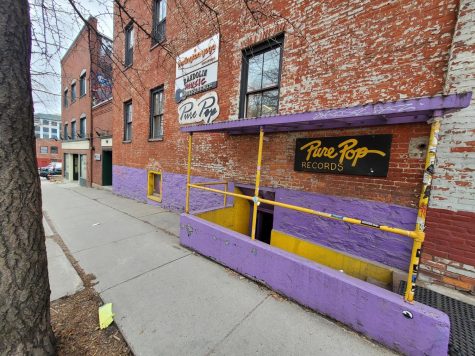 Crandall also offered an example of how some customers choose records. He explained that if someone came in for a vinyl by Kanye West or Mac Miller, even though they don't usually have any due to their popularity alongside the issues, there are two groups of people. One will simply pick something else out that interests them, so as to not make the entire trip a waste. Others will assume Amazon has it in stock because Amazon usually has everything, but even they sometimes don't have specific albums. Although Crandall isn't currently concerned, he added, "if it stays for a long time, then it will be a problem".
Jack White, born Jack Anthony Gillis, is familiar with the idea of how to make a vinyl more than just a slab of plastic and has spent years making his albums vinyl variants more grandiose than most. With his record label, he has made such mystical vinyl like a tri-color 7-inch single, a vinyl meant to be played at 94,000 feet in the earth's atmosphere. He even made an "ultra" vinyl variant for his album Lazaretto, featuring a holographic image of an angel on the run-out grooves, songs hidden below the paper at the center of the vinyl meant to be played at 45 and 78 revolutions per minute, a first of its kind, and having song introductions be different based on where you place the needle on your turntable.
White has long been someone to make unconventional music, both through his first famous band, The White Stripes, with former wife Meg White, and his solo work, including experimentation with all forms of genres, from garage rock to jazz and blues rock and even harder genres bordering on metal. These experimental genres continue with his two albums set to release this year, Fear of the Dawn (April 8th) and Entering Heaven Alive (July 22nd). He is currently touring for the album and continuing to do so until June 11th in the United States, before heading to Europe and finishing on August 29th at the Starlight Theater in Kansas City, Missouri.
The vinyl boom has rewound itself back into a weird position, with Adele's new album 30 being more akin to 500,000 after her label reportedly ordered that many vinyl copies. This leaves bands such as the Russian doom metal group Pale Keeper unable to even think about pressing a vinyl for a few years, possibly causing their fanbase to decrease. White however is doing just fine, thanks to Third Man Pressings and their ability to churn out vinyl after vinyl, resulting in no delays for his album Fear Of The Dawn's vinyl variants. These are limited to only five making it an easy task for his workers, who have been producing them since late 2021 and early 2022. Let's hope these big labels answer his call and start digging their hands in the pellets bin again; Shaun and Ed need new discs to throw at zombies.
View Comments(1)