Campuses Go Maskless: The Student Perspective
With coronavirus positivity rates seemingly declining and vaccination rates rising, schools are ditching mask requirements – students from across the country and around campus give their take.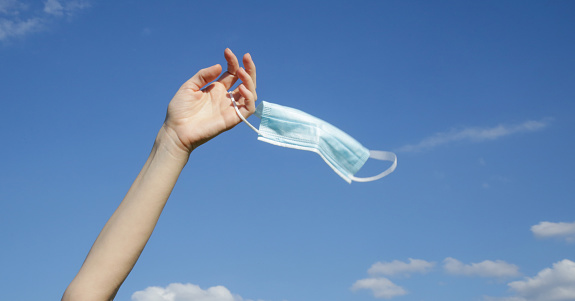 Champlain College will "keep campus masking requirements in place for the weeks following spring break, during which time we will follow data and assess the impact of spring break," according to an email from Vice President of Student Affairs and Emergency Management Officer, Danelle Berube.
Higher education institutions across the United States have made the decision to make masks optional on their campus. Students from some of these schools shared their experiences on a maskless campus in a survey, and their insight reveals how their school's political and social communities may have impacted their own school's decision.
A Psychology major at Fairfield University in Connecticut, who chose to keep their identity anonymous, reflected on the culture and promotion of freedom of their school. According to the student ('23), Fairfield is a Jesuit Institution, and the President's values of freedom of speech and choice impacted their decision to make masks optional as soon as they were able. 
Throughout the pandemic, Fairfield has also remained vaccine-optional, in line with the school's value of freedom. The choice to make masks optional does not mean students don't have to be prepared with masks at hand, however—some professors at Fairfield are still requiring students to wear masks in their classroom, and the choice is given to the professors.
While the student had not yet seen any considerable increase in Covid-19 cases, they still noted that they felt unsure about whether the decision was made at the right time. 
Brandon Borick, a Marketing graduate student at the University of Texas at Dallas, cited similar cultural and political reasons for the decision. He referenced that a big influence for the decision came from the values of Governor Greg Abbott, who pushed for the removal of the mask mandate, despite some students wanting the mandate to stay in place longer. 
Borick noted that he was initially uncomfortable with the move to mask-optional. Cases have gone down at University of Texas at Dallas since the removal of the mask mandate, which made Borick feel more comfortable around students without masks on campus.
At Northeastern University in Boston, a student ('23) who preferred to be anonymous is worried that the move to mask-optional procedures could impact the community outside of their campus. The student explained that they "live and attend school as part of the Boston community, specifically in a fairly poor, majority minority area where COVID has hit a lot of people really hard," and their primary concern is how the lift of the mandate would affect others. They fear that "classes are going to become superspreader events and students will inevitably be spreading COVID all over the city" after the mandate is lifted. 
This student noted that they were not comfortable with this change, referencing that it was likely made to encourage the profits of the school by prioritizing high-paying, party-oriented students. 
Despite various levels of discomfort with shifting mask protocol, students are noting positive reactions to the shift. 
A member of the Class of 2023 at Worcester Polytechnic Institute (WPI), who wanted to remain anonymous, said the decision to remove masks has been generally good. 
"I appreciate it for when I'm studying alone or with a close friend. But it can also be very nerve wracking to have people be sitting so close to you, in the campus center for example, not wearing a mask. I would say generally the student body here has a good [understanding] of when they should wear masks, like crowded settings," the student said.
The WPI student also references cultural motivations within their student body. 
"My school especially is experiencing a drastic mental health crisis and I believe part of the decision to make masks optional was an attempt to improve student mental well-being," they said.
Overall, this student believes that the decision to transition to a mask-optional campus has been a good one, especially considering the responsibility their students have taken over keeping their campus safe with frequent testing and the continued encouragement of masks.
As far as Texas, students continue to find themselves among changes to mask mandates, and some Vermont schools continue to move towards mask-optional environments. In early-March, the University of Vermont announced that their campus would be moving to mask-optional. Similarly, St. Michael's College moved to mask-optional in settings outside of their classes, labs, public transportation, and health center, according to a community message by St. Michael's President Lorraine Sterritt. This came after the state's mask mandate dropped and public schools had already started moving forward with their transitions.
Some Champlain students have a few concerns about what campus will look like here if it were to transition to mask-optional, following the other area schools, but others have no issue with it.
Regarding moves to mask-optional, Olivia Jones ('23) said that she "[thinks] it's a bit strange, since we're still in the middle of the pandemic" but that she "can understand why it might be made optional, since the state itself has lifted the mandate." 
Jones also said that she thinks the "school's culture has played a big role in how things have been handled so far, and it's likely to continue to do so."
Regarding the school's culture, Milo Duclayan ('25) pointed out that "the school is small enough to not be under extreme pressure to remove the mask mandate."
Alanah Tuohey ('25) noted that they think "going a little longer with masks to make sure we can get rid of them sooner in the long run is a smarter option," but also acknowledged that "everybody including myself are probably pretty tired of wearing masks and would like to get rid of them if we feel it's safe."
As for Justin Marko ('23), he says "I'm fine with it." When asked if he was comfortable with the school's current Covid-19 prevention measures, he said yes.   
The students of Champlain College may soon find themselves faced with a similar mask-optional campus, and it will be up to the students and faculty to maintain a balance of freedom and public health with the new opportunities. 
Leave a Comment