March Music Roundup: New Metal Songs from Around the World
German Neue Deutsche Hӓrte (New German Hardness) band Rammstein announced the group's eighth studio album and released the first single, "Zeit." Sharing the name with the album, it's due at the end of April. With the band having around a month to build up hype for their new album, they are currently doing so in the right way, with hidden capsules revealing the tracklisting for the album all around the world and pre-orders for the album being available now on the band's official webstore.
The past few weeks have been very jam packed for people that enjoy Metal music, from Rammstein (March 10th) finally releasing a new song after three years of silence, to Ghost (March 11th) giving us the tale of a new empire rising, experiencing its golden era, and falling. This is backgrounded by weaker acts such as Imagine Dragons (March 11th) and a Russian doom metal band named Pale Keeper (March 11th) releasing new songs.
"Zeit," German for "Time", is a song about life and death and the feeling of wanting an event to last forever so you can enjoy it fully. The song kicks off with soft and somber piano while lead singer Till Lindemann sings about how some things deserve to stay and some things are better off fading away. This then leads into the band's usual forte of pounding drums and harmonious guitars while Lindemann uses his rich and deep baritone to ensure the listener feels the pain and emotionality of the song. This builds up the sorrow shown in the video which depicts the band members as soldiers, farmers, and sailors which all result in tragedy in the form of someone dying through angelic creatures that steal their lives away, or the lives of their loved ones in a certain case.
This is then followed up by the prophesied release of IMPERA by Swedish heavy/avant-garde metal band Ghost after half a year of promotion and around three to four years of hype in the Ghost-fan circle. The album, taking inspiration from the book The Rule of Empires: Those Who Built Them, Those Who Endured Them, and Why They Always Fall by Timothy Parsons focuses on the main message of the book—empires will always have good and bad periods before their inevitable fall. The album does so through songs such as "Twenties" which focuses on the financial good times of the 1920s, as well as when the Third Reich was gaining traction in Germany. This is fronted by the cover art, a very futuristic looking artwork which can be confusing to many. It offers, in a moderate runtime of 46 minutes, a tale of anger turning to revolution and ascension before that cycle continues again and results in the demise of a grand empire.
This is backgrounded by the exquisite sound Ghost has perfected over its decade of public music release, taking the arena rock sound they experimented with on their album, Prequelle and ramping it up here with the track "Kaisarion" which sounds like something Van Halen would have created in the 80s. Beginning loud and fast and ending soft and slow, IMPERA is sure to leave listeners wanting to replay it over and over again like any Ghost album, this time entranced in the high-octane and theatrical music these masked monks produce.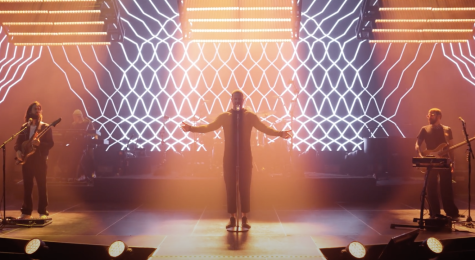 Another band who released something new within the past two weeks is American Alternative Rock band Imagine Dragons with "Bones," a surprise release that came with no warning or heads up. It delivers more of their easy-to-listen-to brand of rock music, with no real interesting experimentation aside from a continuation of rap-like vocals from Dan Reynolds. This is backdropped by a primarily electronic sounding instrumental sound, showing a further shift away from their original sound of alt. rock and arena rock. As for lyrics, the song focuses on life and death (as Reynolds put it), with his main goal being to discuss the fragility of life and the concept of there being something greater out there. The song serves as the lead single from the band's next studio album Mercury – Act 2.
Finally, a recent band that seems to not get much attention due to their small standing in the music world is Pale Keeper. Pale Keeper is a Russian Doom/Stoner Metal band that originated last year and has released three EPs and a live album all in that short span of time. The group has a sound that is very similar to Master of Reality era Black Sabbath instruments mixed with the psychedelic elements of Grateful Dead and early Pink Floyd. The group released their third EP, Restless on March 11th, and it follows three separate mystical tales over the 16 minute runtime, a shift from their last two EPs. Their eponymous debut has no main plot, and The Fall is centred around a possessed woman and her fall to the evil forces.
Housed within the admittedly jarringly edgy cover art and weird name, is a collection of songs that you can space out to and lose yourself in the fantasy realm they concocted for their listeners. Topics range from an exorcism to the mental instability of a clairvoyant and a worm-like creature wishing for an easier life. Backdropped by chugging riffs and melodic singing is an EP that you can listen to on a slow morning in the middle of class and just daydream about the wonder of being in your own mental realm.
The past few weeks have been a rather harsh time for many, and the effects of outside forces are heard and felt globally. These forces however aren't able to touch the unshakable strength and resilience of music, and their usage as a form of therapeutic calming is needed now more than ever. From an album meant to describe how the Ukraine invasion will lead to the fall of Putin, or music you can zone out to, March shaped up to be a month full of headbangers and toe-tappers.
View Comments(1)