Omicron Variant Forces Faculty-Led International Trips to be Canceled
The uncertainty of COVID-19 makes faculty hesitant to plan international trips.
With 11 minutes to spare, Dr. Scudder and his students crossed the Montreal border into the United States before the borders closed in March 2020 due to the pandemic. 
"We got to the border, and it was dark… We were like, 'did they close the country while we were out of the country?'" Dr. Gary Scudder, Core professor at Champlain College, said. 
They were coming home after a ten-day trip to India, and days prior the college extended spring break a week because of the emergence Covid-19. The border agents let them go because the new policy that would have kept them there for half a day didn't start for another 11 minutes. Since then, no faculty-led trips have taken place. 
After two years of battling the Covid-19 pandemic, students are finally able to study abroad again. The ten-day faculty-led international trips continue to be interrupted by the pandemic.
With the hope that international travel would be possible, some professors planned trips for the spring 2022 semester: A filmmaking trip to Sweden, Dr. Gary Scudder's trip to Jordan, and Dr. Kristin Wolf's trip to the Peruvian Amazon were all canceled.
In a statement, Dean of the Core division David Mills told The Crossover that the College's administration put in place a new set of protocols to assess Covid-related risks associated with short-term travel. Once the trips were approved, faculty could recruit students and collect fully-refundable deposits as the College continued to monitor the situation. When it was time to collect non-refundable deposits, the college needed to make a decision.  
"We continued to move these trips forward for as long as we possibly could, but the real deadlines for decision came when nonrefundable payments came due for these trips during the early days of the omicron surge," Mills said. 
Mills mentioned that in early January, Scudder's trip to Jordan required non-refundable payments for plane tickets. 
"That wasn't college money; that was student money," Mills explained. "That was money students wouldn't get back if conditions in March made travel to Jordan impossible."
Unlike study abroad, short-term trips aren't funded by the college and are paid with student fees. They're also planned by faculty members, who believe travel is a valuable part of their course experience. 
"I think they're all burned out," Elin Melchior, the study abroad coordinator, mentioned about the professors who put a lot of work into their trips. Some faculty members may even be discouraged from planning trips because they've been canceled more than once. Melchior said that there is a possibility of a lull in the next year.
Wolf said it takes about a year to plan her trip to the Peruvian Amazon, and she needs to take a break before she thinks about planning another one. The trip has some organized tours, but most of the places aren't tourist destinations and a lot of preparation goes into the trip before students arrive. 
"When we arrange the trip, field managers need to travel to remote locations to see what areas are accessible and safe for travel, what community members want to be involved with our group, and provisions, water, first aid equipment, fuel, everything needs to be brought on site," Wolf said. 
"I know that the administration prioritizes the health and safety of our students and that was the spirit in which the decision was made," Wolf explained. "When you see the immense amount of planning that goes into these trips, including an understanding of the covid situation at these destinations and how we could safely manage risk, I was disappointed that this more nuanced planning didn't seem to factor into the decision-making process."
"The biggest disappointment is that we had 17 awesome students and many hopeful hosts who were psyched to make this work and it just didn't pan out," Wolf said. 
Scudder visited Jordan in November on a personally exploratory trip to see how Jordan was managing COVID-19 and believes that they could travel in March. 
"I didn't necessarily agree with the decision to cancel it, and I didn't agree with the process of canceling it," Scudder said. "It's not my decision and I would never claim it is. But you know, to not take advantage of knowledge is just poor, that's poor leadership." 
While he thought the administration was well intentioned, he believed it was mostly a financial decision. 
Scudder came to a point where he was hesitant to continue to plan for future trips. Not only was his most recent trip canceled, but on his last trip in March 2020, he already planned a trip for the fall 2021 semester that he had to cancel. He said his decision to continue to plan future trips was a result of students telling to "stop being a baby, get over yourself." 
"I've seen so many instances of a student that just came back a different person. So it's worth it to me," Scudder said. He is planning for fall 2022 and spring 2023 trips to Jordan. 
Some students have also had a faculty-led trip canceled for the second time in a row. Degree Design Lab major Ava Ferguson ('23) said it felt "like a punch in the stomach." 
She didn't expect the trip to be canceled for a second time, but as omicron worsened, she worried it would impact the trip. 
"The pandemic has put a damper on many of my original higher educational goals, as it did with many others, and this was that familiar feeling of disappointment, but for a second time," Ferguson said. 
Zane Swift, fourth-year filmmaking major, said, "I never felt like it was never 100 percent guaranteed to me." 
Swift was the director of the film that the filmmaking students were planning to shoot during their trip to Sweden. The trip was an internship course offered to CCM students. The students virtually collaborated with Swedish students over the course of the fall 2021 semester to plan a film to shoot when they arrived in Sweden. The trip was canceled on Dec. 20, 11 days before their departure.
Swift had the opportunity to go on the first —and last— filmmaking trip in 2019 to Saudi Arabia with several filmmaking faculty members. Swift was looking forward to traveling again.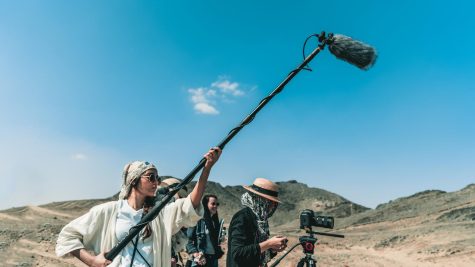 "What was so great about the Saudi Arabia trip is to go somewhere that you usually might not travel, but be there with a group of locals that are so excited to show you around," he said. 
"I would say everyone was really disappointed," Swift said about the other students attending the trip. "But I think the school really tried to hold off until the last moment."
Ferguson thought the trip was made with the right intention and envied the students who were able to study abroad. She said, "It feels as though this group of students were the only ones so heavily affected for this semester."
The decision to cancel short-term trips but continue study abroad was made due to the risk of a student being infected with Covid-19 while traveling. Mills said that if a student tested positive while on the trip, it would require them to quarantine and a faculty member to stay with them. In some countries, the entire group would be considered a "household" and everyone would have to quarantine. Mills said it's easier to manage positive cases in Dublin and Montreal because the college has access to single-bed housing, knowledge of the healthcare system, liability insurance coverage, and connection with the community. 
View Comments(1)