Students Find Their Creative Spirit at Creative Studio Welcome Back Event
Arts and crafts create a relaxing Wednesday afternoon for creative students.
Students from creative majors across the Communication and Creative Media (CCM) division gathered in the Skyloft on Wednesday, Feb. 9, to "find their creative spirit."
Students were asked to create 5 by 5 inch artworks, physically or digitally, to show their inspiration for the spring semester. Faculty first presented their creative spirits to provide students with inspiration for their own work.
Communication Program Director Nancy Kerr shared her creative spirit, being a flower made out of cut-up sticky notes from her desk. She added a twirled pipe cleaner in the middle to represent her fun personality. She told students that she loves everything outdoors, including gardening, so a flower seemed like the right idea for her spring 2022 inspiration.
Graphic Design & Visual Communication Program Director Suzanne Snyder made a weaving of words for her creative spirit. Snyder cut the typed words into long, thin pieces, lacing them together on a black piece of cardboard. She explained that the weaving was not meant to be perfect, some words standing out more than others.
Students then got to work, developing their own versions of their creative spirit using colorful paper, markers, glitter glue, and even googly eyes.
"The Creative Studio Welcome Back Event was designed to be a casual arts and crafts gathering with low-stress, personal art projects as the product outcome. The emphasis of the workshop was conversations, connections, and bringing together the Creative Studio community," Creative Studio Director Jonathan Mikulak said.
These students developed many types of "Creative Spirits," including abstract drawings, three-dimensional structures, and even art pieces using face masks.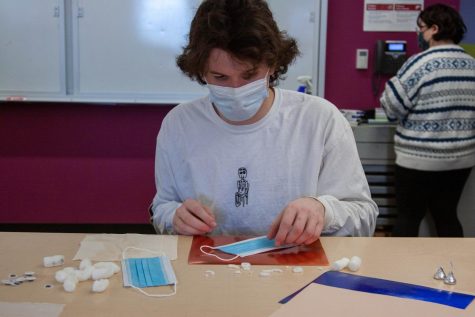 "Student responses have been positive, emphasizing the 'vibe of wellbeing and stress release' the workshop offered," Mikulak said. "Faculty too have commented on the importance of connecting with students outside of their major and learning more about other faculty in a creative, team-building setting."
Each of the "Creative Spirits" have been put into a time capsule to be opened at the end of the semester.
This "Welcome Back" event is just one of many that the Creative Studio hopes to host. The idea of the Studio has been brewing in the minds of CCM program directors for over a year, hosting weekly meetings during the 2020-2021 school year to brainstorm how it would play out.
The Creative Studio is a home for collaboration and connection among the following CCM majors: Broadcast Media Production, Communication, Creative Media, Filmmaking, Graphic Design & Visual Communication, Interaction Design, Marketing Communication, and Professional Writing.
"The Creative Studio is a learning experience and community that prepares students for interdisciplinary creative careers. Its primary goal is to increase collaboration between students, faculty, and creative professionals," Mikulak explained. "Students will have more opportunities and resources to actualize their vision, make in-roads into their industry, and find a meaningful and diverse creative community."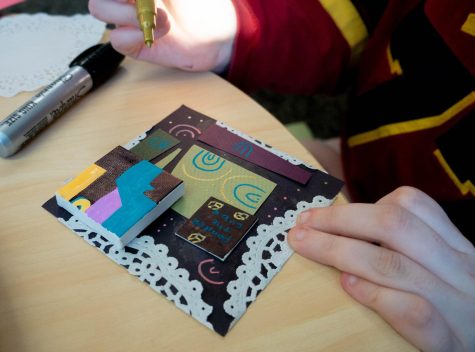 Mikulak, the Creative Studio Student Advisory Board, and Creative Major Professors and Program Directors hope to host more events like this in the future.
"[We will host] events that celebrate and galvanize the interdisciplinarity and imaginative nature of the Creative Studio community. Things that come to mind [are]: experimental skill-building workshops, extracurricular client projects, exhibitions, field-trips, and networking events," Mikulak said.
The Creative Studio official website is set to launch in April, and the advisory board is currently looking for student work to display. For more information, contact your major's program director.
Leave a Comment