The Champlain Shooting Club Gains Over 70 Members in First Month of Operation
President and Vice President tell-all about one of the fastest-growing clubs in campus history.
The Champlain Shooting Club is a new club on campus in which students learn about gun safety and regulations, as well as attend a gun range biweekly. This has become one of the fastest growing clubs on campus this year.
The idea for the club has been seven years in the making; several people came up with the idea years ago. Before the pandemic, the club was ready to launch but had to be put on hold when campus closed. 
Core Professor Ciaran Buckley is the advisor to the club, Computer Networking and Cybersecurity major Alex Kelley ('23) serves as President, and Game Art major Henry Foley ('24) is the Vice President. Kelley, after attending the second meeting, offered to become president, since he had experience with running the Equestrian Club.
There are two separate types of meetings. One meets biweekly and is an informational session where they discuss different topics regarding firearm safety. Examples of different topics include: firearm fundamentals, the parts of a firearm, safe stance, how to use a firearm, as well as federal and state laws regarding firearms.
Kelley describes the other type of meeting the Shooting Club hosts, which includes going to the gun range.
"Currently it's going biweekly, we call them range days, where the first 30 to 45 minutes is gun safety. We do more of a lecture style to get everyone acquainted with basic firearm rules and firearm safety," Kelley described. "If you're brand-new to shooting or still a beginner, one of the certified people takes them off and then one-by-one goes through proper stance, safety protocols, etiquette, and just to stay safe."
Kelley and Foley both mentioned that safety is the top priority of the club.
"One of our main considerations and things that is most important to us is for everybody to have a fun and safe time, with safety being the number one priority. It has to be our number one priority," Kelley emphasized.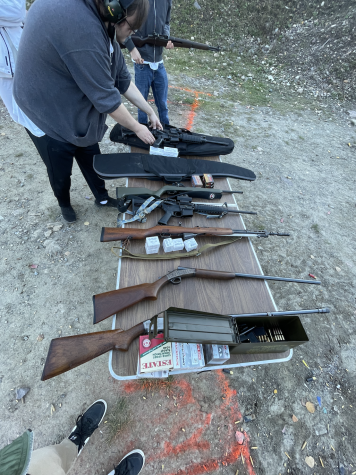 Foley went in-depth about the types of safety protocols they take before each range day.
"We have maybe five minutes at the beginning before we start anything, which is mostly just talking about the dos and don'ts and just trying to reiterate the idea that it's not a bad thing to ask questions," Foley said. "We'd rather you just ask questions and get answers from people who know what they're doing because it is such a serious hobby that can be dangerous."
Hunting and attending gun ranges is a popular Vermont hobby. Deer hunting statistics highly increased during the pandemic, hunting license sales raising 20 percent in 2020.
In Vermont, people are allowed to open or concealed carry firearms without a permit. In 2018, the state raised the minimum age to purchase firearms to 21, as well as enacting background checks for private sales. Previously, private sales did not have to be federally regulated. Vermont is also the only state that has always supported "constitutional carry," meaning it directly reflects the views of the Second Amendment. Vermont also does not distinguish between in-state and non-state residents; both can carry permit-free while in the state.
Foley shares the foundation of the hobby and his experience, saying "It's often a more restrictive hobby, usually you're exposed to it through family or friends, hunting trips, boy scouts, or girl scouts. So a lot of people form opinions based on things that they hear without having any actual in-person experience. We're trying to provide the experience in an unbiased and truly technical way so people can form their own opinions and gain experience without it being a polarizing issue."
Kelley and Foley both have heard welcoming feedback from students at the College. 
"Starting out, I was very apprehensive. I thought it would be a bad reaction. But we're actually the fastest-growing club on campus," Kelley mentioned. "We are already in the top five biggest clubs, with over 70 active members. I was not expecting this, I was expecting like 20 people."
Kelley also hopes to create a budget for a women's-only self-defense class.
"I think it's a very important skill to be teaching people, especially women, just to have the ability to defend themselves," Kelley said. "I'm in the process of seeing if I can find a female instructor so that it's an all-female space so people don't feel uncomfortable."
Kelley also added that the women's defense class would involve both learning how to control a firearm and martial arts defense.
Kelley and Foley both encourage students to get involved with clubs and activities they find interest in trying, even if they are apprehensive. The main goals of the Shooting Club as well as the potential women's defense club are to provide a social environment around firearms.
"We have a lot of people who are going to move into law enforcement after they graduate," Kelley said. "So this is essentially a way, not for them to receive training, but experience."
Foley agreed, saying "Even if it's something you don't like, exposing yourself to new experiences is an overall beneficial thing for everybody. Having the platform to produce your own critical opinions and thoughts is very important."
View Comments (11)