Newest Episode of 'Ted Lasso' Turns the Show on its Head
Contains major spoilers for season two, episode eight: 'Man City.'
"I suspected I was going to hate #TedLasso, but I was legitimately shocked at just how unwatchably fucking shitty it actually turned out to be. No jokes, no plots, just 42 minutes every episode of the most infuriatingly pollyannish grown man I've ever seen. BUT HE'S NIIIIIIIIIICE!" writes  Twitter user @jason_pettus. 
Criticisms like this have become all too common since the beginning of the second season of the hit Apple TV show, Ted Lasso, started. A quick scroll through lead actor Jason Sudeikis' likes on Twitter will reveal a myriad of snarky comments in the same vein. The sitcom centers on a former football coach (Sudeikis) who moves across the pond to become the head coach of a failing soccer team. It's been critically acclaimed since it first dropped, and has won the cast and crew a slew of awards (plus 20 nominations at this season's upcoming Emmys – no big deal). In sum, it's a critics' darling turned social media punching bag. 
From the first time Ted Lasso appears on screen, it's obvious he's a character built with a little extra pep in his step. From his mustached smile to his bottomless supply of oddly specific idioms, Ted waltzes into the lives of his new team and makes it clear that positivity is the best policy. He brings handmade biscuits to his boss every morning, he tapes a sign with 'BELIEVE' written across it above his office door, and he passes out books he's personally picked out for each of his players. His mantra is to be a goldfish, because they have the shortest memory spans, which means that the bad things in life don't stick for them.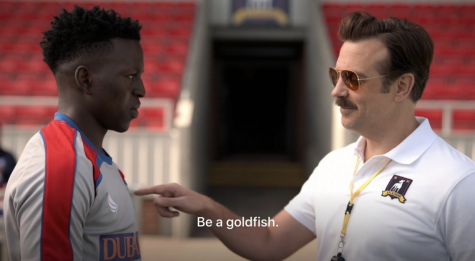 Ted's positivity infects the entire show, and slowly, but surely, he begins to help his new found family of a chaotic soccer club find the beauty in their lives. The driving force behind Ted Lasso is the connection and love between the characters, who constantly motivate and support each other to be the best they can be, much to the chagrin of many Twitter users.
However, last Thursday's episode, titled 'Man City,' turned everything on its head. 
Ted has suffered occasional panic attacks since the first season, which started popping up after he and his wife got a divorce. His anxiety has only increased since then, with the situation being aided towards disaster upon the arrival of psychologist, Dr. Sharon Fieldstone. Ted refuses her offers of help, pushing her away with his optimism and metaphors, until he hits his breaking point in the most recent episode. 
After watching a heartbreaking moment between player Jamie Tartt and his father in the locker room after a crushing team loss, Ted runs outside in tears and calls Sharon on the phone. He then reveals to her a shocking truth he's been bottling up inside: his father committed suicide when he was sixteen years old. 
And suddenly, the pieces of the Ted Lasso puzzle all crash into place. Ted, for all of his enthusiasm, is a relentless optimist because he has no other choice. He's devoted his life to helping people win because he's absolutely terrified of what will happen to them if they don't. His positivity is ultimately his biggest coping mechanism. Ted is not a goldfish because he wants to be, he's a goldfish because he has to be.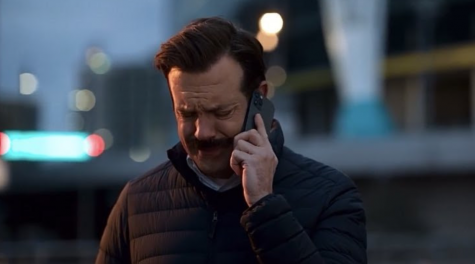 While those who think similarly along the lines of Twitter user @disquisition, who writes, "Ted Lasso is too positive for me. Like y'all know the world is ending right," will likely continue to raise their noses at the sunshine radiating off of the little coach that could, fans are excitedly awaiting the storm that's coming their way. Less than 24 hours after the most recent episode aired, #TedLasso was already the number one trending topic on Twitter, with fans emotionally expressing their thoughts on the new revelation. 
Where Ted's healing takes him from here is up to the writers, but it's a powerful reminder for the fans (and the naysayers): everyone has a story. And while the story of Ted Lasso was sold in a brightly colored biscuit box, it only goes to prove that behind every smile is something more, and behind every coach who tries to make everyone around him feel worthy, there's someone who might be struggling with feeling worth it too. 
The show's script consists of brilliant positivity lit up the world, but Ted's reasonings are a strong reminder to those who watch: be a goldfish, but don't forget about yourself along the way.
View Comments (2)