Champlain Students Create App for Running Safety
Riley Seith and Mackenzie George use a project from freshman year to create an app that will increase runners's safety.
Champlain College students Riley Seith ('22) and Mackenzie George ('22), marketing majors, have created a new app called "Laces," promoting running safety. The app includes features like: the ability to report incidents after a run to other users, drawing a route on a map with real time safety data and reported incidents available, receiving audio directions while running, and a typical GPS with abilities to track the run.
Seith and George came up with Laces in a class at Champlain, Biz & Entrepreneurial Mindset, taught by Tom Meyers. For the final project, students had to come up with a business plan for an issue that they cared a lot about, and Seith and George realized they were having the same problems running in a new place away from their hometown. Getting lost, nervousness about being a woman running alone, and the inability to find a similar app led the students to want to fix the issue.
"We ended up brainstorming a lot of solutions and ways we'd like to see it helped, and we thought up an app that had more information," Seith explained. "Because at the core of it, we felt like that was the issue, was that we didn't know about Burlington yet."
They did not necessarily plan to go through with the app after the business class ended, until Meyers inspired them to.
"We were, like, talking about it and everything but then Tom had connected us with executives at Samsung, so freshman year they had flown us in two or three other teams to go speak on that," George continued. "And we got really positive feedback from there so we've just been working on it ever since."George explained the meaning of running to her, saying that her dad got into fitness and health, allowing her and her brother to begin doing the same.
"So from elementary school I was in Girls on the Run and different local 5ks and everything. The issue didn't occur until probably high school, when I was in softball and volleyball, so during the summer I would train to make sure I was keeping in shape," George reflected. "I never was a long distance runner, like Riley, but I would just go around my neighborhood and stuff like that so I would stay in shape for the other things I was doing."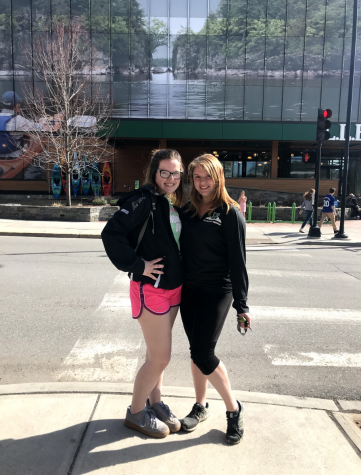 George elaborated, saying, "But then you would get people, like, honking at you and everything else. And then it got that much worse going into a new city because you didn't know… I know in my hometown what streets to avoid and streets that are probably okay to go down, where in Burlington I had no idea where I was going. The issue just got ten times harder and then I knew, talking to Riley, she felt the same way."
Seith had a similar experience, using running as a connection to her mom.
"Running was always a very happy, positive, social, fun experience for me, and it wasn't until I got to high school when I started getting catcalled and harassed on runs. I live in a really small town, and it was people I went to highschool with, you know, in their driveway, so people I knew," Seith explained. "I would be on runs with my mom and we were both getting yelled at. It's little things because you know you're close to home, so it never concerned me a ton."
Seith continued, explaining how that experience changed once she went to college.
"Until I got to Burlington, and the first time I really got nervous was when I got lost. I was trying to go for a three mile run and I went for a five-and-a-half mile run because I got so lost I couldn't get home," Seith said. "I got home after dark that night and I was really nervous and my mom and my roommates were just blowing up my phone calling me because they thought something horrible had happened. I couldn't see my map, I couldn't figure out where I was."
Two features of Laces that the women highlighted were the audio directions and the ability to report incidents to other app users. The audio directions widens the demographic and allows anyone to use the app on runs, mapping out where they want to go and not having to stop or put themselves at risk to check where they are going.
Seith goes in-depth about the reporting incidents feature, saying, "It's kind of similar to the driving GPS app 'Ways' in that other people will just be able to, after their run, report if there was suspicious activity here, and it made me uncomfortable, or this street had no streetlights or something.
"Basically the ability to report hazards and activity on your run that other people can then see and when they're drawing out their route, kind of use, is probably my favorite [feature]," she continued.
The Laces website includes a "Share Your Story" section, allowing people to share experiences they've had regarding safety while running. 
"I think our thoughts were just to hear the struggles that other people are going through. So, I know that when we talked to men about this app, they are like 'does this really happen?' or 'do you really have these worries?'" George detailed. "And it's just like, we can tell you yes, but I think showing other people's perspectives and like how many people this actually occurs to, numbers definitely speak volume."
"The more we spoke with our mentors and our investors, who were a lot of men in that mix, they were consistently shocked," Seith explained. "Mackenzie and I, this was back when we were going to bring Laces to Samsung, and we were preparing to fly there to pitch it, and we were pitching it over and over again to Deans and everyone at the college."
Seith continued, detailing the questions they received from college staff and faculty about this issue: "We were saying things like 'we get harassed, women get harassed' and we had in our powerpoint that year, three women had been killed in broad daylight while on runs across the country. So we had all these statistics and then they said 'but has that happened to you, here?' And Mackenzie and I said 'yes.'"
Seith then shared an experience that happened to her as well as George, a story that they shared to those who asked these questions. "It was maybe 4 o'clock, wasn't even dark yet, we were on Main Street because I lived in 396 Main. A car slowed down next to us, screamed 'I'm gonna rape you' out the window, a bunch of guys, and then drove away," she said.
Seith and George hope that Laces can allow people to feel safer when navigating a new place or encountering dangerous or stressful situations. They hope to launch the app in the fall of 2021.
Leave a Comment