Understanding Your Privacy Rights as a Student

Before you turned 18 and came to college, your parent or guardian had the right to access your education records, make changes to them, and control how much of your personally identifiable information was disclosed to others. 
But now that you're an adult (yes, an adult!) with your own autonomy, those rights have shifted from your parents to you. You are the only one with access to your education records; most importantly, you decide who can have access to them. 
You can thank the Family Education Rights and Privacy Act for this!
What is the Family Education Rights and Privacy Act (FERPA)?
FERPA is a federal law that protects the privacy of student education records. It applies to any public or private institution that receives some sort of funding from the U.S. Department of Education. Information within an education record is defined as:
Details of financial aid

Details of a billing statement

NOTE: an authorized user in Touchnet (Champlain's billing portal) may discuss the specifics of your bill, but only the information they have available in front of them. The college will not discuss potential charges, specifics of pending aid, etc.

Academic information such as grades, enrolled classes, academic standing

Disciplinary documentation
There is information about you that is not considered part of your education record and that can be disclosed to anyone. Directory information includes, but is not limited to:
Student's name

Email, mailing, or home addresses

Phone numbers

Enrollment status or credit hours

Dates of attendance

Receipt or non-receipt of a degree, etc.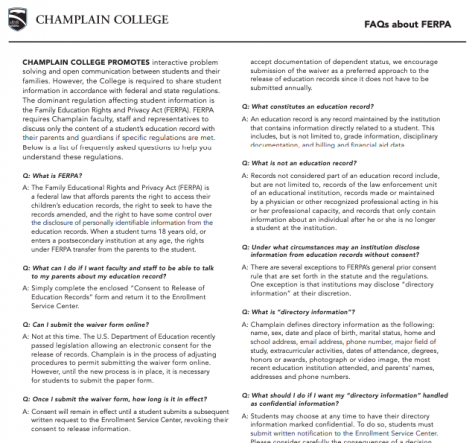 The processes and responsibilities that come with college can be daunting and confusing. You may have someone in your life who handles the finances of your tuition and financial aid. If so, you can sign a waiver that gives consent to the listed individuals. Champlain College cannot speak to any individual about your education record until given consent. 
This restriction on communication applies even to your parents who may be paying your tuition bill, but who you've decided not to put onto your FERPA waiver. They are not entitled to know your grades or academic standing just because they're paying your tuition. These relationships with your parents or guardians are yours, and Champlain College adheres to the privacy boundaries you set for yourself. 
You can also change who has consent whenever you need to. The FERPA waiver is not a one-and-done deal. You can add or remove any person from the waiver, and Champlain College does not need an explanation, just an updated form.
At the end of the day, you are an independent adult, and you now have more power and control in making your own decisions.