Champlayers to Perform The Complete Works of William Shakespeare (Abridged)
Champlain's student-run drama club, The Champlayers, will be performing "The Complete Works of William Shakespeare (Abridged)" at 7:00 p.m., Friday, April 19, and Saturday, April 20 in Alumni Auditorium.
"If you love or if you hate Shakespeare, we both give a tribute to Shakespeare and we also take the piss out of him," said Jake Buzzell, '20 who's playing Hamlet and Henry VI. "So it's fun for everyone, regardless of your level of experience with the Bard."
The group originally picked the play because they thought it was by the same playwright as "The Brothers Grimm Spectaculathon," the spring show in 2016 when the seniors were first years.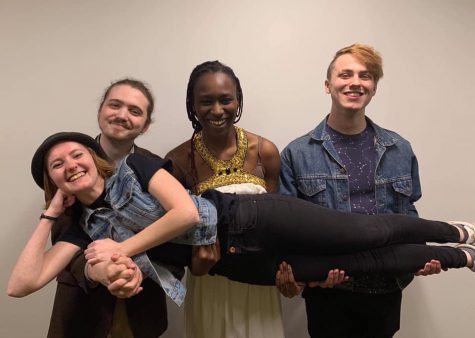 "But as it turns out, they're not written by the same people," Buzzell said. "But we had already decided to do the show by then."
"The Complete Works of William Shakespeare (Abridged)" was written by Adam Long, Daniel Singer and Jess Winfield for three actors. Senior Professional Writing major Rachel Matthews adapted the script to expand those three acting roles into 46.
"A primary facet of the Champlayers is to be inclusive," Special Projects Manager Maddie Burgee, '20 said. "It's our primary mission to include anyone at any level in any facet of theatre they're interested in being in, so to be able to include as many actors as possible was our goal. It is every semester. "we can't have a three-person show. What fun would that be?"
All of the work that went into this production was done by students, from the script adaption to the directing to the set design.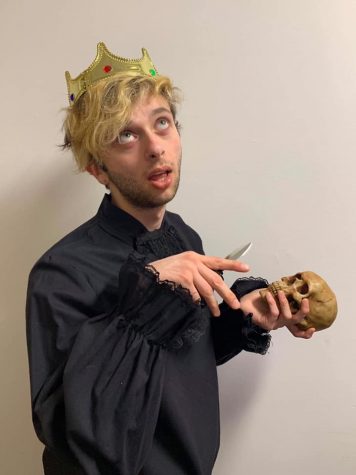 "Maddie [Burgee] and I have collectively done all the costuming for the show," Stage Manager Katie Bush, '20 said. "Me and Dylan Francis did set design. Aidan [Wasserman] and Dylan built the entire set, with help from one or two other people on the cast."
"[The costumes] are not entirely from scratch," Burgee added. "We do as much as we can purchasing things from Goodwill. We have contacted Old Gold, the vintage shop, but if we need to make alterations—I'm currently turning dress pants into Shakespearean-era pantaloons—so making major alterations like that, not entirely from scratch, we primarily focus on making alterations."
The play is about an hour and a half long.
"It's super funny," Assistant Stage Manager Aidan Wasserman, '22 said. "Our three main narrators are really awesome. It's their final show here, and they're really pulling out all the stops."
Highlights to look forward to:
The Set:
"My personal favorite part of any show is our set build days," Burgee said. "We basically goof around for a full day, like a solid 24 hours, we're just messing around and either going out shopping or we're here building or listening to Katie's playlist really loudly, whatever it may be. Set builds are usually the highlight for me."
"I think it's really fun to take a bunch of lumber and turn it into something that we can use to accentuate the performance," Wasserman said, "and having a leadership role doing that with Dylan this time was really cool."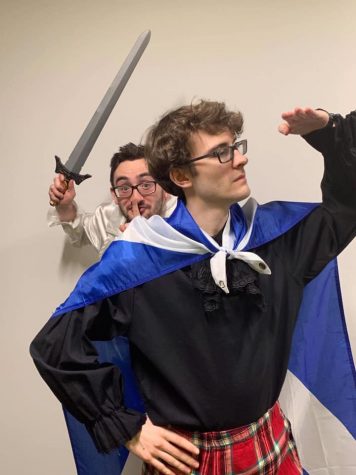 The Macbeth scene:
"I really like the Macbeth scene," said transfer Jes Burke, who's playing Titus Andronicus and Macbeth. "We have a lot of fun with it… we just get to yell onstage a lot and it's really high energy, and I love doing stuff like that."
The end of Hamlet:
"It gets really hectic, and there's lots of craziness going on," Chelsey Sanford, '22 who's playing Friar Lawrence, Claudius and King Richard III.
"I always get my daily dose of cardio in because of it," Buzzell said.
View Comments (2)