Los Dormant Volcanoes Bring Lots of Laughs
When you think of an improv comedy troupe, a few things might come to mind. Some of them might even be positive. But when you think of a college improv comedy troupe? Yeah, you're probably expecting to cringe more than laugh. However, Champlain College's Los Dormant Volcanoes break the classic stereotypes by doing one simple thing: actually being funny. The auditorium is so packed during their annual Family Weekend shows that the crowd causes a fire hazard by gathering on the stairs.
Los Dormant Volcanoes is able to hold competitive auditions by choosing not to receive school funding. When recognized and funded by the Student Government Association, clubs lose their right to be "exclusive." However, Associate Professor and troupe director Eric Ronis sees auditions as vital to the group's success.
"Have you ever met someone who was convinced they were funny and they really weren't?" Ronis says, "You feel obligated to laugh at them. Imagine sitting through an entire evening peppered with that. It would be unpleasant." When Ronis holds auditions, he and the current troupe members look for three basic criteria: one, can you be spontaneous? Two, can you actually cooperate with others? And three, can you be funny?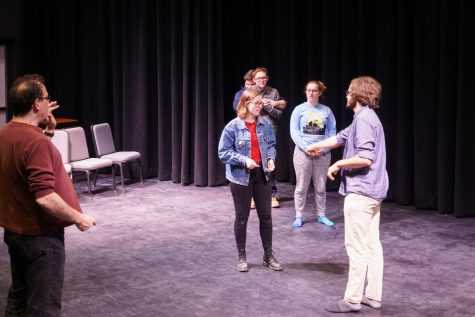 Los Dormant Volcanoes was formed mostly by accident in the fall of 2005. Ronis had just become a full time faculty member, and was asked by the head of Student Life to do something for Family Weekend. "They thought it would be good to have improv comedy teach and be educational," Ronis explained. "They brought up examples, like how students could work through problems with a roommate or a professor." Ronis had previous improv experience, although not on Champlain's campus. He gathered six students that he knew from his acting class or through on-campus plays. They rehearsed, planning to do a series of the problem games interspersed with a few other improv games that Ronis knew. The audience really enjoyed the show and Student Life asked him to do it again the next year.
"It was apparent that the people coming to the show weren't looking for a learning experience," Ronis said. "They were looking for a fun evening, so the problem game almost became a joke. After that, somehow I said with the group of students, 'That was fun, why don't we just keep doing it?' and then there was talk of, oh, we should make this a regular club." From there, the troupe started developing traditions, like the end-of-semester shows and the Spring Equinox show. In their third year, they finally gave themselves the name: Los Dormant Volcanoes.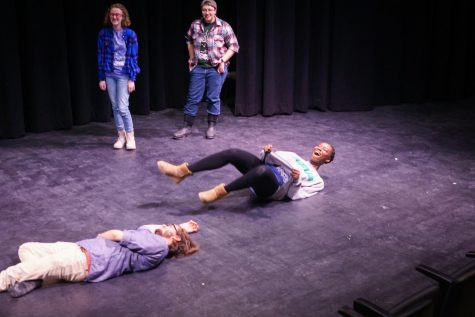 Steve Heron, a second-year Filmmaking major and returning member of the troupe explains that traditions are essential to the troupe. "A big thing we do before every show is The Choosening. The Choosening is how we pick who is going to be in which games and the seniors pick first." They also use the yearly Family Weekend show to fundraise for T-shirts. "We use any leftover money to throw a party for ourselves at the end of the year, and if there's anything left after that, we donate it to a charity. Usually a local one," Heron said.
"This year, we really use improv as therapy, which is something I like—a lot of good games come out of that," Ronis said. He started using this idea of 'therapy' as a warmup for the troupe after the 2016 election. "I was personally feeling really down about it and we created this game, it wasn't some Trump-bashing game, it actually made us feel really good about it. The idea was that you could have a do-over with a third candidate that no one even knew about." Now, they start many practices by using games to solve things that are stressors in their lives.
"Recently Paul, another member on the troupe, brought this game that he made up," Steve said. The game is called Understudies, where two people perform a fake play and two other people watch it without sound and try to recreate what happened. "It's fun when someone brings something and we fine-tune it to figure out what works best for us as a troupe. We take pride in the games we've made up."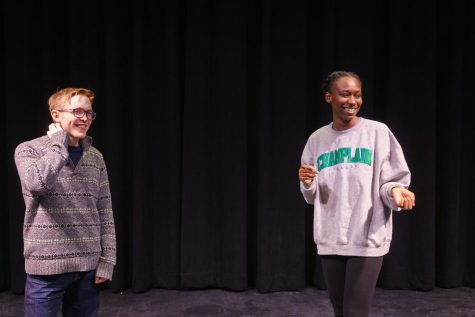 Steve states that his favorite part of being on the troupe is the rehearsals. "I feel like everyone's so fucking funny," he says. "Rehearsals are so much fun because instead of performing, we're just having fun trying to make each other laugh. We all care about each other and want each other to do well."
Most faculty advisors are fairly uninvolved in the clubs they sponsor. Some club members don't even know who their faculty advisor is. But Eric Ronis isn't like that—he's a member of the troupe as well as a coach. He serves as an instructor in the beginning, spending the first few weeks teaching the improv basics. "Not that a student couldn't do that, because I did," he says as a disclaimer. When Ronis was on the troupe at his alma mater, Harvard University, he was the Workshop Coordinator.
"It is important for me to be involved as a keeper of the flame, to keep the traditions going as people graduate. But more than that, I do the shows because I really enjoy it."
What makes the shows so popular? "I believe we're actually good," Ronis says. "We are a talented group of people, so to see good improv comedy is not a common thing, especially on a college campus."
The troupe's next show is this Friday, March 22, in the Morgan Room at 8:00 p.m. The shows are free to attend.