Nations United: Celebrating Champlain's Multicultural Community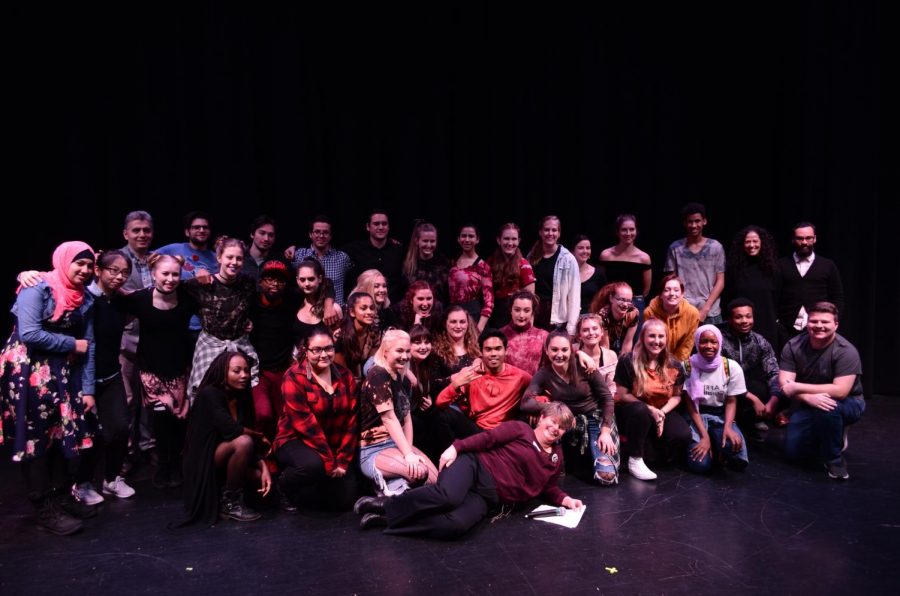 On November 10, 2018, Champlain College hosted its third Nations United, a collection of speeches, performances, and presentations from the international members of the college's community.
"I think it's important to embrace culture, and show that we have culture and lots of multicultural people here," said Assistant Professor Dan Buckstein, a Canadian faculty member.
The event is organized by the Director of International Student Services, Jessa Karki, who came up with the idea in response to the 2016 presidential election.
"People were feeling, or at least the international community was feeling, pretty worried, pretty stressed out, very similar to the domestic U.S. population feeling stressed out after a heavy and embattled campaign, and it almost felt like there was a sense of loss," Karki said. "I said to myself, 'wouldn't it be cool if we had something to celebrate, and wouldn't it be cool if we could do something to make international students and exchange visitors visible on our campus, and our international faculty visible on campus, and our international staff visible on campus.'"
This year, in addition to the performances and presentations, there were speeches from all the first-year exchange and international students who acted as "the voices in between the acts that are being performed," and provided the audience with snippets of individual students' unique experiences as international students here.
"The United States is only one of so many countries in the world, and we're part of that world, not it," Karki said.
"What I hope for this year particularly is that we send a message as an institution that we value the global marketplace, that we embrace international education with both hands, and that we welcome and hold dear our international students, scholars and faculty and staff and we give importance to their presence on our campus," she concluded.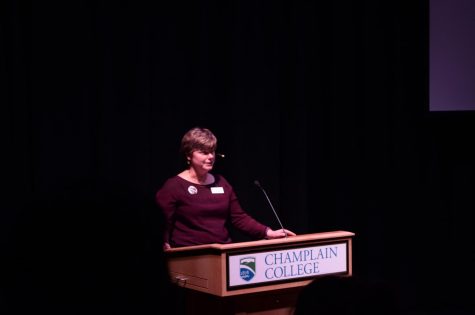 After some pre-show entertainment and a performance from Sambatucada, a Burlington-based percussion group that play Brazilian and Afro-Brazilian rhythms, Jessa introduced Nations United and Champlain's participation in #YouAreWelcomeHere, a campaign from U.S. higher education institutions directed at international students, that promotes "embracing the exchange of knowledge, learning, and expertise around the globe."
"Nations United has a little more of an edge this year," Jessa said. It's a little more feisty… and we're more leaning toward advocacy on behalf of the world's people, and I think it's because of the nationalistic rhetoric that the United States has taken, particularly the vibe that is coming from Washington is very much nationalistic."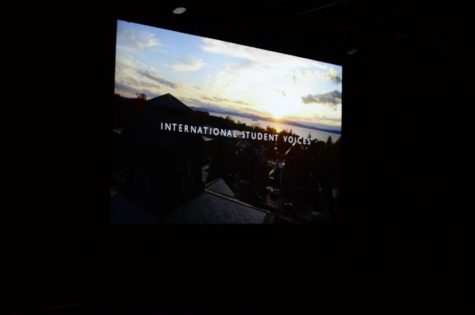 Diana Ogoti from Kenya, and Mariama Jallow (MJ) from The Gambia both work in the International Students Services office and created a video to broadcast the voices of their fellow international students.
"This community is all we have as international students, basically," MJ said. "So it's good we have a video featuring us, our voices, because we matter on this campus, and we contribute a lot to the global citizenship of this campus."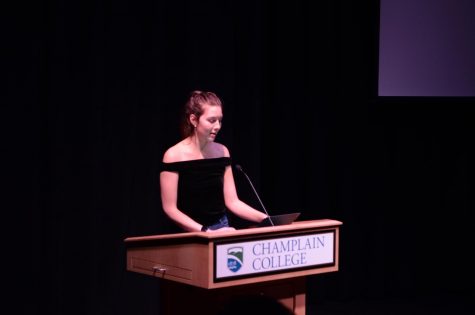 Prior to coming to Champlain, New Zealand exchange student Amelia Bennett knew three things about Vermont: Bernie Sanders is in charge. It's gorgeous in autumn. It's "bloody cold" in winter.
"Champlain wasn't my first choice, but I'm really glad to be here," she said.
Damion Samuels [Not Pictured], an international student from Jamaica, gave a speech in English and Jamaican Patois, a native language.
"Leaving the paradise of Jamaica, which I call home, to study abroad was a very big step," he said. The biggest difference between Jamaica and Vermont for him is the climate.
"In Jamaica, it's always warm, even burning hot. Here it is never warm," Damion said. "Even when there is sun, it is still chilly."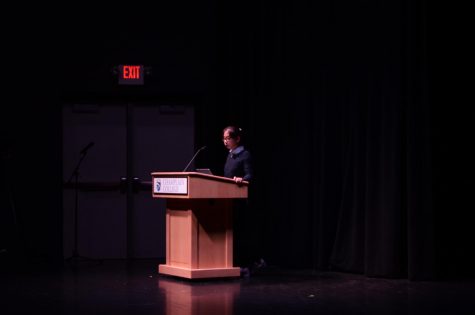 Peiwen Qian, a New Zealand exchange student, is originally from China and had already finished school and started working when she chose to move to New Zealand.
"I already graduated and had a stable job, but I made a decision to go to New Zealand and go back to Uni. Then I made a decision to do an exchange program here," she said.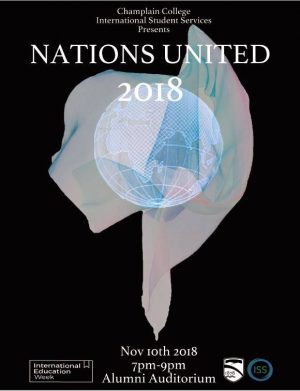 Peiwen is a graphic design major and created both the poster and the program for Nations United.
"To be a good designer, you must have cross-cultural intelligence," she said.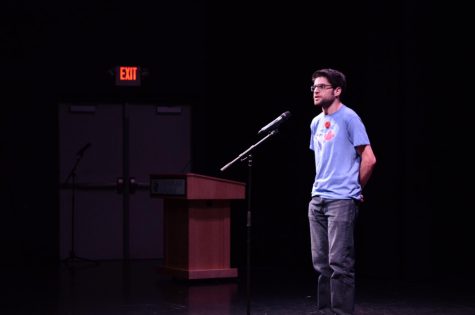 Assistant Professor Dan talked about the symbol of the poppy and Remembrance Day (known as Veteran's Day in the U.S.) in Canada and then recited the poem "In Flanders Fields" by John McCrae.
"When I was a kid, I would be called up to recite it every year—November 11— in school," he said.
This year the poem is especially important since November 11, 2018, marked 100 years since the armistice of World War I.
Willow Moller [Not Pictured], an international student from Canada, talked about how taking the class Thriving as an International Student at Champlain College helped him notice the differences between his fellow Canadians and those of us native to the U.S.
"Even though I'm an international student, I didn't feel like I was, but taking this class made me realize the subtle differences between Canada and the U.S.," Willow said.
Professors Flavio Rizzo and Veruska Cantelli gave a presentation on Italy, and how citizenship there is based on whether your parents are citizens, not a birthright system like we have in the U.S.
"We were very glad to do it because the information presented was very close to our hearts," Professor Flavio said.
"How can you say no to such an incredible community and how can you say no to Jessa, who worked so hard to build this international community," Assistant Professor Veruska said.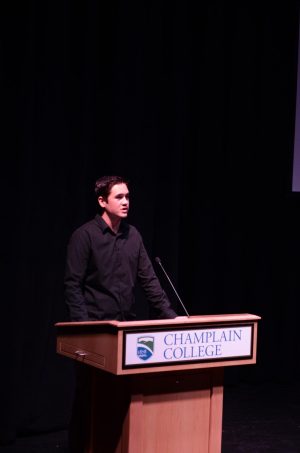 Keegan Allen, an exchange student from New Zealand talked about the activities and events he's experienced in his semester here so far, and how they've differed from Hollywood's portrayals.
"The people are quite an important part of my experience so far," he said.
Keegan felt that Nations United is meaningful because it allows international students to share their experiences with the rest of the Champlain community. He feels that the exchange of information can help international students feel more welcome.
"I'd be appreciative if people asked us about our culture," Keegan said.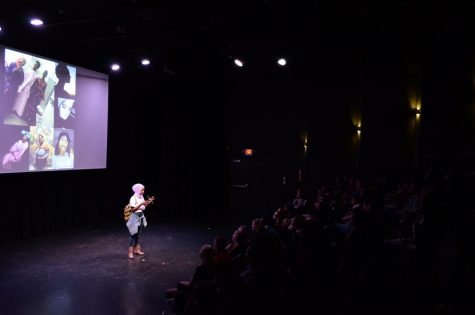 MJ presented two poems, the first being an original poem she wrote.
"Poem is a good way of expressing for me," she said. "When I'm really in a dark place, I write a lot. So, I was in pain and I needed hope and that was a way of me writing and relating to other people who may be feeling the same way."
The second was a combination of three "I am Melanin" poems or "black" poems.
"I relate most to them because I am a woman of color, and I relate to them, and I know a lot of sisters of color relate to it too, so I thought it was important to bring it up," MJ said.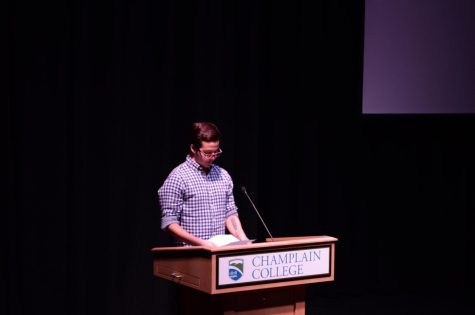 Adel Talhouk, an international student from Lebanon, appreciates Nations United because "The event kind of represents us."
"Champlain really supports international students more than other colleges are known for," Adel said. "They support us really well and really care about us."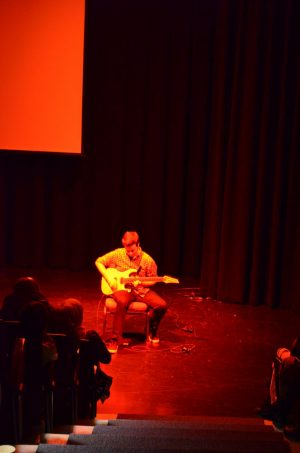 Adel had been encouraged to do more than just speak, so he chose to play Metallica's "Master of Puppets," which he had been practicing on electric guitar for a while.
"It's pretty badass. I didn't hesitate with the song."
Although one of his guitar strings broke about seven minutes into the song, cutting his performance slightly short, he still was able to leave the audience in awe of his skill.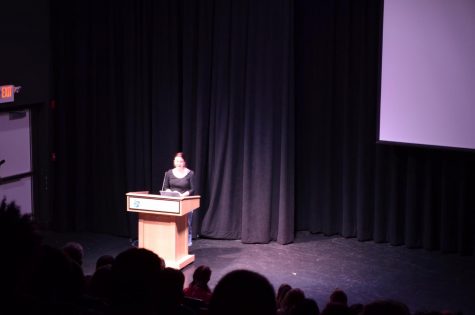 Ruby Clavey, an exchange student from New Zealand, talked about how studying abroad allowed her to gain independence and adult responsibility for the first time.
"This is my first time living away—I've always lived at home before with my mom—I've had to grow up…[my speech] is about my personal growth, and I'm proud of that."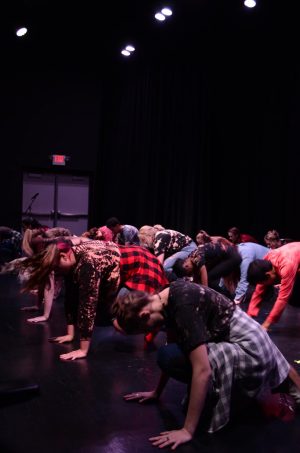 The Champlain College Dance Team performed a dance to the song "Youngblood" by the Australian band 5 Seconds of Summer.
"I feel like it's a way for us to get more involved in the community and spread the word about Dance Team and what we can do," Co-Captain Rachel Bussone said.
"It's also a way to showcase the community on campus. We have students from all different backgrounds. It's a wonderful way to celebrate coming together, which is what International Education Week is all about," Co-Captain Sadie MacKinnon said.
Photos by Jenna Misra