Caldecott-Winning Illustrator Jason Chin Visits Tanya Lee Stone's Children's Literature Class
Chin explains his new book written by Andrea Wang titled 'Watercress.'
Watercress highlights the story of a young Chinese-American girl who feels embarrassed by certain parts of her heritage. In it, Wang shares similar experiences she had growing up as well as the experiences of her family members. Watercress earned both a Caldecott Award for best children's book illustration and a Newbery Honor for best children's book text this year.
In the story, she stops by a cornfield with her family to pick watercress, and she hopes no one she knows sees her as she sinks her feet deep into cold mud and fills up her paper bag. Later, when arriving home, she feels angry that her parents are trying to get her to eat the watercress. That is until her mother tells a story of the famine she lived through as a child.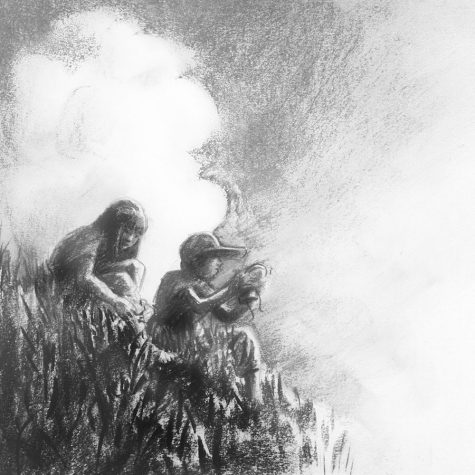 The book is all about embracing yourself and being proud of where you came from, according to Illustrator Jason Chin. Chin currently lives in South Burlington, VT, but grew up in Brookline, MA. He is also a third generation Chinese American and felt connected to this book due to his own heritage.
Chin visited Tanya Lee Stone's Children's Literature class on Monday, March 28, sharing his process for developing illustrations for Watercress, what working with picture book editors and writers is like, and how research and experience impacts his illustrations.
In illustrating Watercress, Chin began by meeting with author Andrea Wang, which isn't typical for the picture book development process. Generally, the author and illustrator are kept completely separate.
Upon reading Wang's manuscript and having conversations with her, Chin began storyboarding his illustrations, drawing several versions of miniature drawings on a piece of paper. From there, he created several picture book "dummies." These allow him to picture what the drawings will look like on a page with words and understand the pacing of the story better. He was then able to create finished products.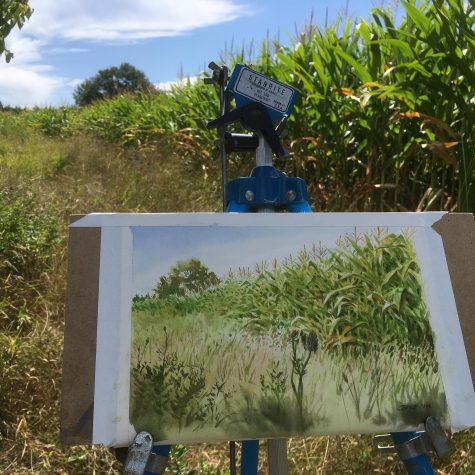 But his work was not solely done from storyboarding and sketching. He also researched the Chinese famine, Chinese architecture during this time period, and visited corn fields in order to accurately represent them.
Chin is also an author-illustrator of several other picture books, including Grand Canyon (which also won a Caldecott Medal), Your Place in the Universe, and Redwoods.
Leave a Comment