Champlain College is Growing, and "Wellness Wednesdays" Are Going
Students prepare for the return of Wednesday classes for the Fall 2022 semester.
'Wellness Wednesdays' have been a part of the Champlain College course schedule since Fall 2020. 'Wellness Wednesdays' gave students extended flexibility on Wednesdays, intended to be used for "club meetings, well-being and innovation time." With a dedicated time block free of classes, Wednesdays ended up being a shared time for students to come together and work part-time, meet for group projects, visit their professors for extra help, or rest and focus on self-care.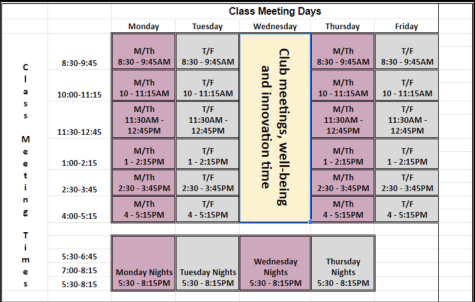 Despite being a staple for the last two academic years at Champlain, 'Wellness Wednesdays' will soon not exist. 
In an email announcement shared on Dec. 15, 2021, Interim President Dave Finney informed students: "[Fall] 2022, we will return to a five day per week class schedule, including the resumption of classes on Wednesdays."
According to the email, the choice to resume Wednesday classes was a necessary one, and will allow for more classroom space to host the much larger first-year class incoming this fall. Raven Duke ('24), former SGA house member, shared information about the decision and why it's necessary. According to Duke, "[Champlain's] expecting a huge student body growth in the next few years," and that the available options to accommodate this growth was to "either build new buildings or buy new buildings… or use Wednesday's."
Duke noted that "the decision was made by the college [administration], with little input from the students or SGA." While there was a survey distributed to students, student feedback would make little change here, as it was a decision based on logistical and financial roadblocks. Luckily, students don't seem to mind.
Some students believe that 'Wellness Wednesdays' brings more stress into their schedule. Olivia Jones ('23), commented that this schedule format "resulted in less flexibility with [her] schedule and class picking. The middle of the week is a time when many students would like to get classes done… and Wellness Wednesdays limited that."
Duke had a similar sentiment, and her role in student government impacted her experience. She says, "Student leaders have all of their meetings scheduled on that one day. As someone who has multiple leadership positions, it is overwhelming to jump from meeting to meeting and still participate in non academic or professional settings during my supposed time off."
These students feel like the end of 'Wellness Wednesdays' is for the best. Both Jones and Duke, among others, say they approve of the change. Duke expressed concern that this change could impact underclassmen, who have not yet experienced a five-day week in their time at Champlain.
The new schedule for the Fall '22 semester still includes a block of freetime on Wednesdays in the afternoons. It adds two long class blocks into the Wednesday slot from 8:30 a.m. to 11:15 a.m. and 11:30 a.m. to 2:15 p.m. Shorter class blocks that meet twice a week will still remain on a Monday-Thursday, Tuesday-Friday schedule. This new schedule ensures that there will be enough classroom space available for the growing student body.
As students begin to plan their schedules for next semester starting in March, they'll start to see the changes take place. 
Leave a Comment