Hometown Highlight: Lincoln, New Hampshire
Hometown Highlight is a feature series showcasing the unique places Champlain students come from. Have you come to appreciate where you're from since you've been gone? Tell us!
Hang on for a minute...we're trying to find some more stories you might like.
Since coming to Champlain College, I've been asked "where are you from?" more than all the times before coming here combined. At first, I would just say "Lincoln, New Hampshire," but I soon learned absolutely no one knew where that was. Then, I started answering with "New Hampshire" because most people seemed to know where that was located. Sometimes, fellow New Hampshirites ask for the specifics, but rarely do they know where Lincoln is either.
I've been stumped by this. How the heck does no one know where Lincoln is? It's one of the hottest tourist destinations in New Hampshire, and it's surrounded by even more tourism and nature. Maybe it's not the greatest place to settle down, but for the fleeting moments, it's spectacular. I can't go on without people knowing about this little gem in northern New Hampshire.
This is Lincoln.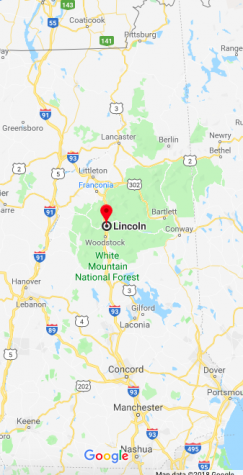 This tiny town is nestled in the heart of New Hampshire's largest National Forest, the White Mountains. It's a two-hour drive from Burlington, Boston, and Portland. As of 2015, the full-time residency population is 1,700. Lincoln and the neighboring town of Woodstock combined have enough students to send to the local K-12 school, Lin-Wood. I graduated from there in 2016, with a class of thirty-five students.
Here we all are outside. I knew everyone, not just in my grade, but in the whole high school. There were only 100 students in the high school and 300 overall from every grade. That's the real meat of growing up in a small town; you just know everyone.
Our high school mascot is a lumberjack, a commemoration of a simpler time. From the 1700s to the 1940s, Lincoln was a prominent town in the paper industry. Surrounded by forest, logging became the biggest employer of the local population. Most people either chopped wood or worked in the paper mill to process the timber. Lincoln and the surrounding towns are rich in logging history, with decaying mills on the Pemigewasset (pem-ee-gah-wah-set) River, and railway lines crisscrossing all over northern New Hampshire. In fact, the Lincoln Railroad and the East Branch of the Pemi River were the largest logging pair in all of New England. The entire track system covered seventy-two miles, and up until 2010, there were two large abandoned sawmills in the heart of Lincoln.
Lincoln has been kept alive by two industries: logging and skiing/tourism. We demolished the only paper mill in town in 2010. Many of the checkpoints along the Pemi River and its East Branch were just skeletons rather than anything functional. Some of the railways have been converted for entertainment rather than processing.
Clark's Trading Post is one of Lincoln's biggest summer attractions. It dates back to 1928 when the Clark family started a roadside attraction featuring real, purebred Eskimo dogs. If you go today, you'll find trained black bears. The Clark family has been raising orphaned bear cubs since 1949, and they've been able to extend the life of their bears from three to five years as in the wild, to almost twenty years in their habitats. To see the Wolfman, yet another unique attraction, guests get on the White Mountain Central Railroad and cross the Pemi River over a covered bridge. The bridge was actually dismantled in East Montpelier, Vermont, and reassembled over the Pemi River in 1963.
In the 1960s, Lincoln was starting to feel the impact of a deteriorating logging industry. It just wasn't profitable anymore. Much of the forests had become protected as National Forest land, and this small town needed a way to survive. Sherman Adams, blue-collar logger and white-collar Chief of Staff for President Eisenhower, discovered the consistent pitch and northern exposure of Loon Mountain. Loon Mountain Ski Resort opened in December of 1966 and transformed Lincoln into a tourist destination.
The number of hotel/motels in Lincoln? Over thirty. Restaurants? Even more. Loon Mountain ranks high every year as one of the best ski resorts in New England, and it continues to push revenue into the town even after the snow has melted. For instance, every September Loon Mountain hosts the New Hampshire Highland Games & Festival.
Thousands of people pack into Lincoln for this event. Every room in every hotel in and around Lincoln is full. They turn every available parking space into event parking, even renting private property or unused land for event parking as well. New Hampshire's Highland Games are one of the largest and most diverse Highland Games events in North America. For a whole weekend, visitors can listen to Scottish bands, eat genuine Scottish cuisine, and watch live sporting events. I'm not talking about soccer or rugby. I mean caber toss and shot put. The athletes are huge, and the competitions focus on strength and endurance. There's also a sheep herding contest with dogs, which should be the headlining event, in my opinion.
Loon Mountain partnered with Utah-based company Ice Castles to bring one of their winter creations to the White Mountains. Ice Castles has locations all over the country, but the only northeast location is in New Hampshire. Before it exploded in popularity circa 2015, Lincoln's castle was built and maintained at the base of Loon Mountain. It was then moved to a location closer to the center of town and expanded to include running fountains and slides. There are fire dancing and visits from off-brand Anna and Elsa. It has added another winter activity for locals and visitors when skiing or snowmobiling gets boring.
But no matter what, most of the magic in Lincoln doesn't come from our history or our ice castles. It's from the area around us. Being dead center in the White Mountain National Forest means thousands of miles of hiking trails and dozens of mountains to climb. It means natural caves to explore and gorges to walk through. For the visitors of Lincoln, the slow pace of life and the quiet that surrounds the town is a break from life. People come from bustling cities that are clogged with people and filled with noise. People come to Lincoln for the attractions and the entertainment, but they always come back because of the nature. They come back because of the atmosphere and the hospitality.
I never realized how true this was until I came to Champlain. During my first time back to town for Thanksgiving break, I understood. It's rare nowadays to find a place that's quiet and hardly developed. But this little gem in a valley of the White Mountains is both, and I call it home